Lipo Flavonoid Introduces Innovative New Line of Over the Counter Ear Health Supplements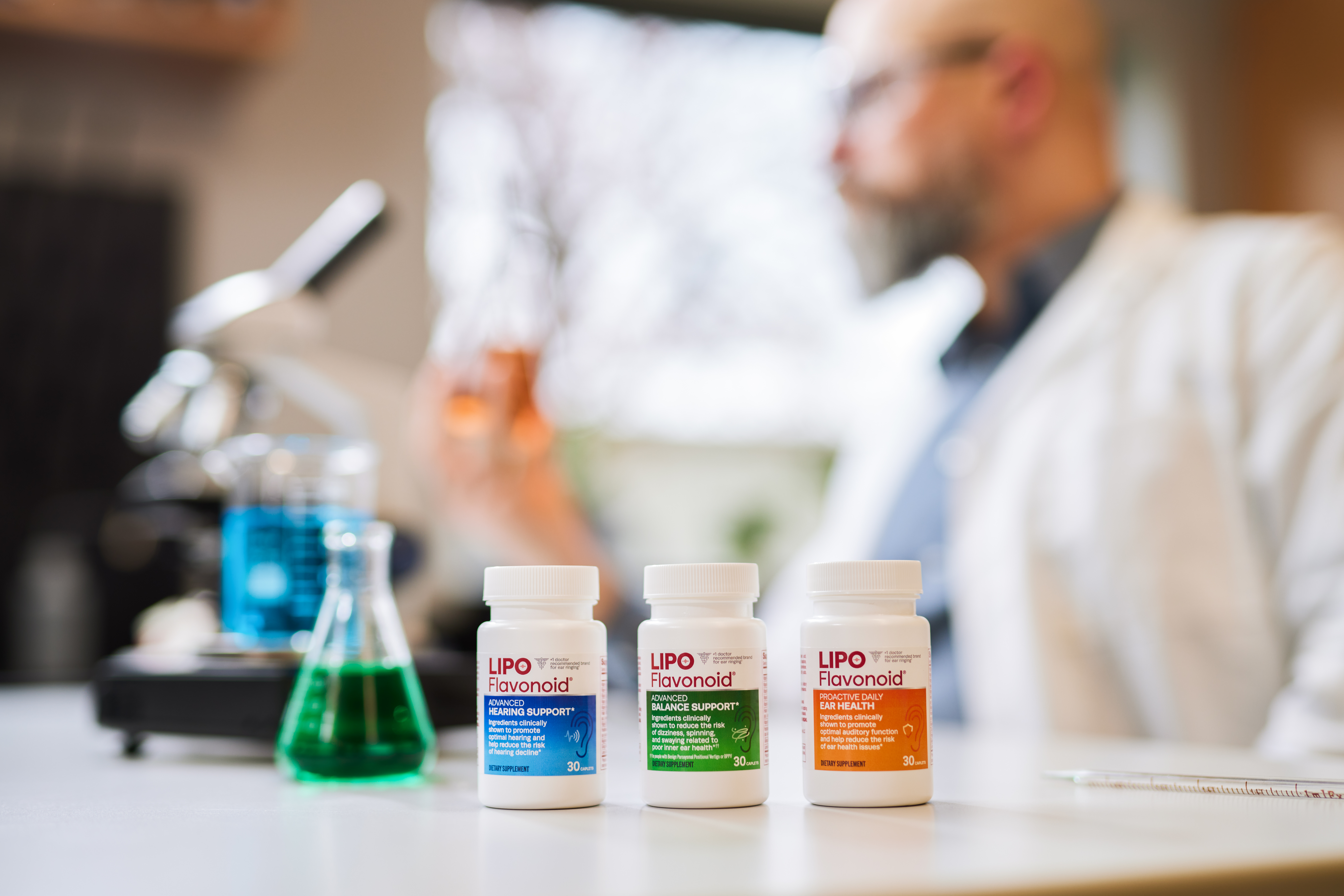 #1 ENT Doctor Recommended Brand for Ear Ringing introduces three new over the counter supplements uniquely formulated to help address America's growing ear health epidemic
CHATTANOOGA, TN – Lipo Flavonoid, a leader in ear health supplements and #1 doctor recommended product for ear ringing1, today announced the launch of its innovative new line of ear health supplements with three unique formulas to address common age-related ear health concerns such as hearing loss, tinnitus, and vertigo-like symptoms (dizziness, spinning, and swaying).
Leveraging its 60-year clinical background, Lipo Flavonoid has been at the forefront of the ear health industry, providing expertly formulated solutions with demonstrated efficacy in treating ear ringing for the 50 million Americans affected by tinnitus. Medical professionals concur; Lipo Flavonoid's Ear Ringing Relief supplement is acknowledged by ENTs as the most effective over-the-counter solution for addressing ear ringing symptoms1. Now the brand continues building on its robust clinical ear health experience through a new line of supplements scientifically formulated with nutrients clinically shown to help support ear health across a broader range of need states.
Advanced Hearing Support: An innovative new formula with ingredients clinically shown to help reduce the risk of age-related hearing loss and promote optimal hearing. Powered by a premium blend of L Methyl Folate, Bioflavonoids, and rich B Vitamin Complex to help increase nutrient delivery and absorption in the cochlea and support neurological function in the inner ear neurons.

Advanced Balanced Support: A new Balance Support formula with ingredients clinically shown to reduce the risk of Vertigo-like symptoms; dizziness, spinning, and swaying related to inner ear health. Formulated with Ginkgo Biloba, Vitamin D, Bioflavonoids, and robust B Vitamin Complex to improve blood flow throughout the inner ear, support nutrient absorption and promote healthy inner ear functioning.

Proactive Daily Ear Health: A proactive daily formula to protect against future ear health decline. Formulated with a blend of essential vitamins & minerals that have been clinically shown to help support healthy auditory function and help reduce the risk of long-term ear health issues.
Expertly formulated with clinically tested ingredients, all three products are safe and effective in an easy to swallow once daily caplet, guaranteed to be gluten free and dairy free, with no artificial colors.
"We are extremely excited to build on our ear health leadership with the launch of these new innovative products and the impact they can have for the more than 60 million Americans who suffer from some level of hearing loss or deal with vertigo," said Tyler Smith, Lipo Flavonoid Brand Lead for Bridges Consumer Healthcare. "Hearing loss and vertigo issues can have a huge impact on a person's quality of life and there are very limited cost-effective solutions to proactively protect our inner ears and help to promote and support ear health. Recent clinical studies have shown us that our inner ears require specific nutrients to function properly, and we as Americans, don't get many of them in our daily diets or in a general multivitamin. Our products, however, have been expertly formulated with a unique blend of premium nutrients that have been clinically shown to promote optimal hearing, reduce the risk of vertigo-like symptoms, and proactively reduce the risk of future ear health issues."
Now with a full range of ear health supplements covering Earing Ringing (often referred to as Tinnitus), Hearing, and Vertigo – the full line of Lipo Flavonoid ear health vitamins and mineral supplements are now available for purchase on Amazon and in-store in June.
For more information about Lipo Flavonoid products and where to buy them, please visit www.lipoflavonoid.com.
Lipo Flavonoid is not meant to replace a doctor's care.
About Bridges Consumer Healthcare
Based in Chattanooga, Tennessee, Bridges was formed in 2020 by Robert Long with the mission to build a leading consumer healthcare company focused on OTC and personal care products, driven by consumer-led marketing and innovation. For more information, please visit www.bridgeschc.com.
*These statements have not been evaluated by the Food and Drug Administration. This product is not intended to diagnose, treat, cure or prevent any disease.
1Data on file
Media
For media inquiries, please contact: [email protected]
Source: Bridges Consumer Healthcare
Media Contact
Company Name: Lipo Flavonoid
Contact Person: Courtney Walker
Email: Send Email
Country: United States
Website: https://lipoflavonoid.com/