FlipBuilder's Catalog Maker Helps Enhance Digital Catalog Performance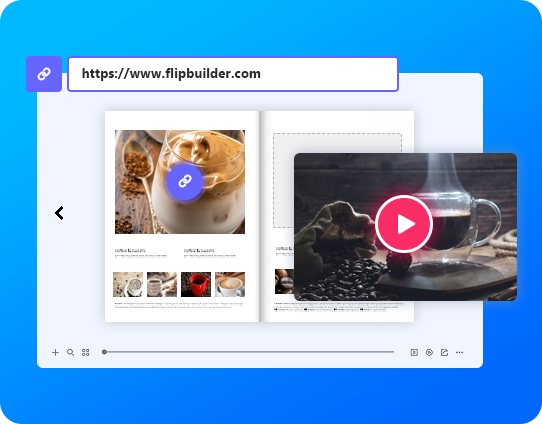 This catalog maker supports adding videos, links, and more to create a pleasing online shopping experience.
FlipBuilder's catalog maker comes with various features to help businesses create, enrich, and publish their catalogs to improve their performance in customer acquisition.
Information technology has evolved the way people communicate, read, and even shop. As digital publishing booms, many businesses seek tools to create and publish digital catalogs to better connect with their audiences. FlipBuilder's catalog maker – Flip PDF Plus Pro, is such a tool to help businesses create digital catalogs from their existing PDF catalogs.
This catalog maker has Windows and Mac versions. Import a PDF catalog after launching the software, and it will automatically convert the PDF catalog into a flippable one quickly. The business can enable information extraction, allowing audiences to search directly for what they want in the catalog. Also, the catalog maker can detect URLs, email addresses, and phone numbers and generate them into hyperlinks, making it easy for audiences to contact the business.
The Flip PDF Plus Pro catalog maker prepares plenty of templates, themes, and scenes for beautifying the reading interface of the catalog. Logo settings and preloader settings will be effective in building brand awareness. Upload the brand logo, change its size, and add the brand's URL to make it clickable, offering audiences a window into the brand. The business can also import a loading image or video, enter the loading caption, and do some other designs. It's easy to impress audiences by doing this creatively.
The catalog maker also has a potent multimedia editor designed to make catalogs interactive. The editor enables the business to add new blank pages, rearrange the page order, and enrich the page content with various elements. Inserting videos to give an overview of the brand is a common practice for businesses to showcase their products and services. Adding clickable links that open shopping tabs to let audiences place orders directly can help drive sales.
FlipBuilder allows businesses to distribute catalogs in many ways. They can save their finished digital catalogs in HTML, EXE, and other formats for offline access. "Our catalog maker also supports online sharing, which makes it more convenient to be accessed by global audiences," says Winston Zhang, CEO of FlipBuilder.
To learn more about the feature-rich catalog maker, please visit FlipBuilder.
About FlipBuilder
FlipBuilder has been deeply involved in digital publishing software development for many years, with the aim of helping people from all walks of life to get a smooth digital publishing experience.
Media Contact
Company Name: FlipBuilder.com
Contact Person: Customer Service
Email: Send Email
Phone: +86 020-61972665
Country: China
Website: https://www.flipbuilder.com/