New book "The Federal Plantation" by Larry A. Lee is released, a compelling allegory about unjust work environments, corruption, and spiritual tools for contending with evil bosses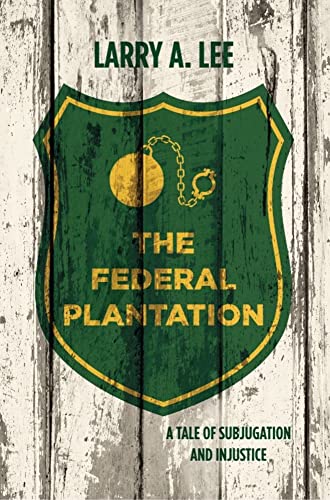 "The Federal Plantation" by Larry A. Lee has been released worldwide. This 422-page novel follows Liam, his guardian angel Ariel, and a host of biblical characters in an epic tale of fighting back against The Enemy, the fallen angel that drives institutional abuse, corrupt and convoluted policies, and a mission of subjugation that has been unfolding since the dawn of time.
Fed up with the injustices of the Federal Service and driven to the point of desperation, Liam's decision to fight back draws him into a world of cosmic good and evil, where his very soul is put to the test.
The story itself is adventurous, humorous, and compelling throughout, but its real value lies in the eye-opening allegory of self-interested leadership, bureaucracy, manipulation, and incompetence that can infect institutions of all kinds. Lee uses familiar, iconic Christian imagery to bring readers into this mighty battle of good vs. evil, and draws from his own experience in a hostile work environment to create relatable scenarios with a cosmic twist.
As part of this fascinating allegory, Liam is a writer whose accounts of abuse at the hands of The Enemy and Hilda the Widowmaker have the power to open people's eyes to the truth of institutional injustice. This element of the story reinforces core ideas about exposing evil, calling out bad leadership, and the power of language to name and dismantle the worst aspects of society.
Lee tackles the broad issues of controlling bosses, demand for obedience, mismanagement, and beyond in a way not only teaches valuable lessons, but also inspires readers to fight for themselves.
The Federal Plantation: A Tale of Subjugation and Injustice (ISBN: 9781958729144) can be purchased through retailers worldwide, including Barnes and Noble and Amazon. The paperback retails for $19.99 and the ebook retails for $3.99. Review copies and interviews are available upon request.
From the back cover:
A WRITER IS A WARRIOR, so Liam harnessed and used his fear to expose the Federal Service's subjugation and injustice for the greatest good.
Institutions are not what people think they are. Liam saw the Federal Service as an intimidating giant, yet he recognized the very thing that made the giant robust made it vulnerable. Liam knew a powerful institution was something he could not fight back with only hope and the thought of fairness. An institution is not even somebody. It is nothing, and one cannot fight nothing. Liam knew an institution loses its power once it has a human face.
Hilda the Widowmaker was the Angeles' Plantation owner and a highly skilled institutional assassin. She is a disciple of the Enemy, the fallen angel who dominates Paradise Lost. Since the beginning of time, the elite has created a complex system of policies and laws to protect the costly blunders of management. Outmoded rituals and inappropriate dogma have belittled humanity into slaves.
The physical world assaults Liam's faith. The result is an unusual perspective of some of the most ossified traditions in the Federal Service and eye-opening lessons that can be applied when David meets Goliath on the battlefield again.
"Larry Lee builds on the success of his memoir with The Federal Plantation: A Tale of Subjugation and Injustice. It's an entertaining, imaginative allegory about the absurdity and corruption in our bedrock institutions. Follow along with Liam as he and his guardian angels battle all the forces of darkness to reclaim his eternal soul from . . . the federal bureaucracy. Pick up your copy today. You'll never look at the government the same way." — J.J. Hebert, #1 bestselling author
About the author:
LARRY A. LEE writes to empower people to seize the opportunities in their lives, no matter the obstacles in their path. He discovers the wisdom of words by living each moment twice, once in reality and the other in retrospect. His first book, Out of the Field, was published in 2019, and it was an Amazon Best Seller in both Men's Christian Living and Men's Inspirational Spirituality.
Larry lives in Moreno Valley, California, with his dog, Cowboy. He is a member of the Inland Scribes, and he is a member of the Moreno Valley Library Commission. He lives an ordinary life, full of everyday things, and he loves to write about what he sees and experiences in his life.
About MindStir Media:
MindStir Media LLC is an award-winning book publisher. To learn more about publishing a book with MindStir Media, visit http://mindstirmedia.com or call 800-767-0531.
Media Contact
Company Name: MindStir Media LLC
Contact Person: Jen McNabney
Email: Send Email
Phone: 800-767-0531
Address:1 New Hampshire Ave Suite 125
City: Portsmouth
State: NH
Country: United States
Website: https://mindstirmedia.com/