KOSOOM Launches Online Product Purchase and Free Instant Lighting Consultation Service
Recently, Kosoom Lighting (or Kosoom for short), a leading commercial space lighting company, launched an online store for purchasing lighting products, aimed at providing customers with more convenient and efficient services, as well as free lighting solutions.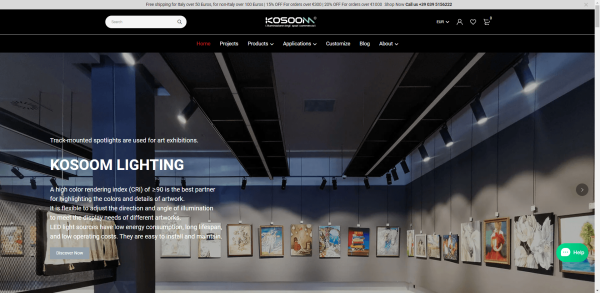 The online store contains a variety of lighting products, including LED track lights, LED spotlights, LED linear lights, LED floodlights, LED light strips, LED panel lights, and more, suitable for various commercial scenes such as supermarkets, retail spaces, offices, and restaurants. According to professional evaluations, their LED luminaires use high-quality LED light sources, with high brightness, high efficiency, long lifespan, and eco-friendliness.
About Kosoom Lighting

Kosoom Lighting was founded in 2017 and is headquartered in Via Talamoni, 6, Brugherio MB 20861, Italy. It is a professional commercial lighting product and design service company that integrates design, development, production, sales, and service. It has more than 50,000 square meters of production bases worldwide, and has established 8 manufacturing plants for SMT, PCBA, production blow molding, assembly, stamping, die-casting, aging, and packaging.
The head of Kosoom stated that they focus on providing high-quality, efficient, and environmentally friendly lighting products for commercial spaces, and will continue to focus on the development of sustainable lighting products, constantly exploring and innovating, striving to launch more efficient LED products, and practicing the concept of sustainable lighting in practical actions.
KOSOOM Development History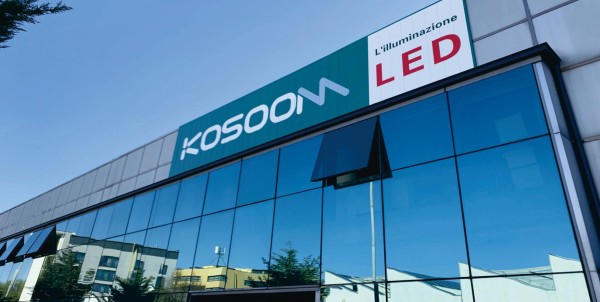 In 2017, KOSOOM Lighting was founded in Via Talamoni, 6, Brugherio MB 20861, Italy.
In 2018, it opened an over 600 square meter lighting showroom and released free lighting design services to meet customer needs.
In 2019, it successfully broke through more than 20 super-large chain supermarkets, and the annual lighting design area exceeded 100,000 square meters.
In 2021, it exhibited at the ECOMONDO Energy Exhibition in Italy, releasing the MLL002-A linear light with a light efficiency of up to 160Lm/w, leading the industry's products and amazing people.
In 2022, the company launched the "Power Saver" series of products and power-saving lighting solutions, achieving a power-saving efficiency of more than 35% compared to industry peers, and has been widely recognized by the market.
In 2023, KOSOOM Lighting officially launched online product selection and free lighting consultation services to serve customers more efficiently and quickly.
According to Kosoom's head, as of the end of 2022, they have served more than 100,000+ customers in more than 70 countries worldwide, with a SKU of 5,000 types of standard and customized products, and more than half of the customers choose their personalized customization services.
For more detailed information, please visit their social channels.
Website:https://www.kosoom.com
Facebook:https://www.facebook.com/Kosoom.Lighting
YouTube:https://www.youtube.com/@kosoomlighting
Twitter:https://twitter.com/Kosoomlighting
Instagram:https://www.instagram.com/kosoom.lighting/
Linkedin:https://www.linkedin.com/company/kosoom-s-r-l/
Tiktok:https://www.tiktok.com/@kosoomlighting
Media Contact
Company Name: KOSOOM S.R.L
Contact Person: Guanqun liu
Email: Send Email
Country: Italy
Website: https://www.kosoom.com