KTGY Earns 6 Coveted 2022 Gold Nugget Grand Awards and 9 Merit Awards Honors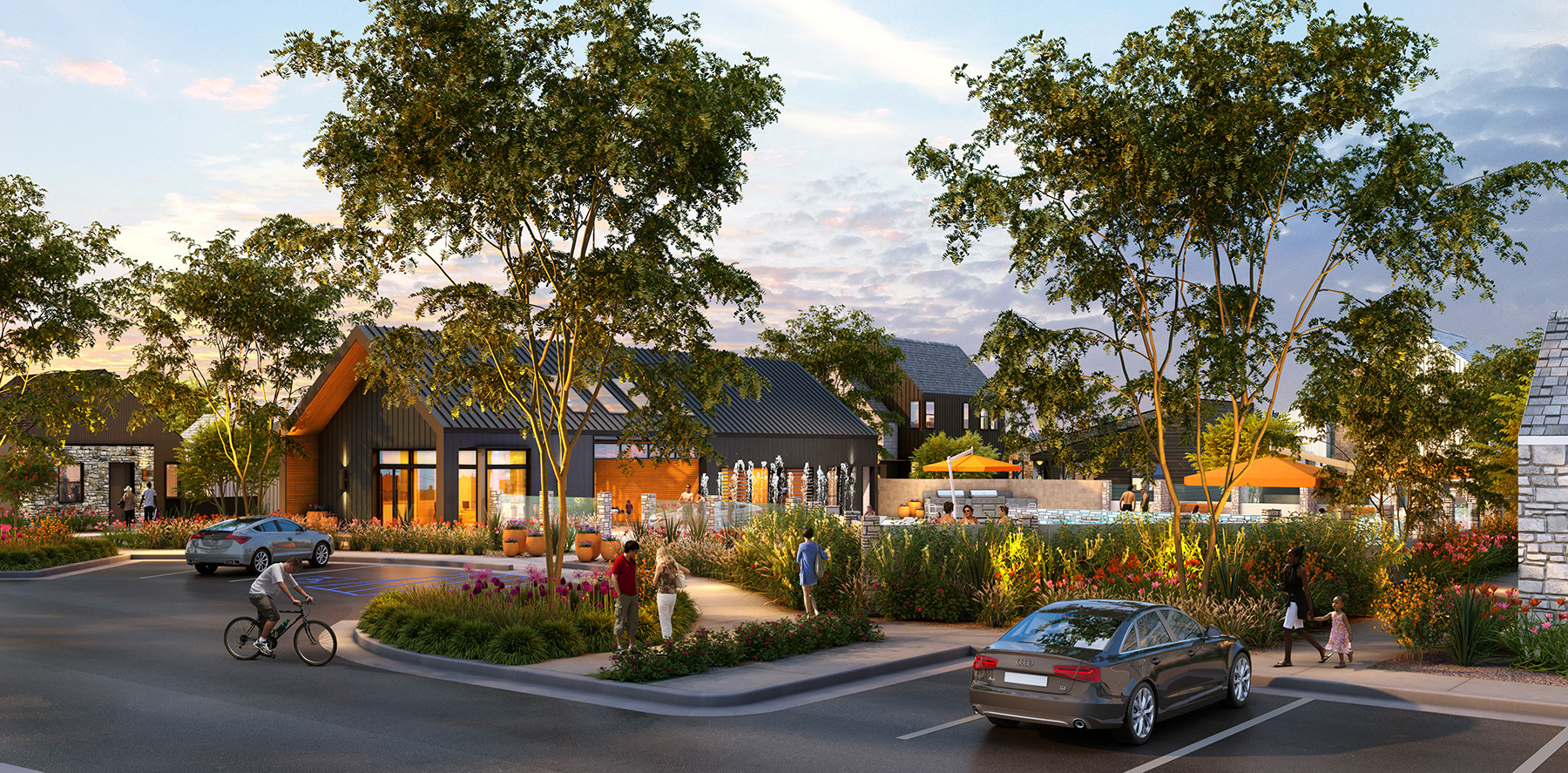 Dellrose in Hockley, Texas won a Gold Nugget Grand Award for Best Single Family-For-Rent Community Product Design (Image Credit: KTGY)
CALIFORNIA – KTGY, a leading full-service architecture, branding, interior and planning firm focused on residential, retail, hospitality and mixed-use developments, announced today that the firm has received six Grand Awards and nine Merit Awards in the 2022 Gold Nugget Awards competition. The 59th annual awards program honors design and planning excellence and draws entries from throughout the United States and internationally. The Gold Nugget Grand Awards are chosen from the elite pool of Merit Award winners and were announced on June 23rd at a live awards event in San Francisco. Winners this year were selected from a competitive field of nearly 600 entries from around the world.
KTGY's winning designs that were honored with the Gold Nugget Grand Awards are:
BEST SENIOR HOUSING COMMUNITY – ON-THE-BOARDS
The Lodge at Autumn Willow (Fairfax County, Virginia)
Builder/Developer: The Michaels Organization
Architect/Designer: KTGY
Landscape Design: Gordon
This affordable, age-targeted community in Fairfax County, Virginia consists of a 150-unit, two-story development with rich amenities aimed at serving income-restricted, active seniors. Nestled in a forested neighborhood near I-66 and SR-29, this community sits in a conveniently located area with a nearby shopping center. The master plan encompasses more than 20 acres and includes primarily one-bedroom apartment homes ranging from 696 to 1,163 square feet, along with a community center and direct access to nature trails and a nearby creek. Designed to support the unmet needs and living preferences of the active senior community, residents will also benefit from the robust supportive and connective programs, services and amenities Fairfax County offers. The community's modern design is inspired by the area's natural wooded setting and will be surrounded by a public park, pedestrian trails and the Little Rocky Run streambed. Additional community benefits include outdoor spaces such as a serenity studio, reading cove, firepit and recreation area, and onsite walkways connecting to Fairfax County Park Authority.
UNIQUE RESIDENTIAL DETACHED HOUSING SOLUTION – OVER 8 DU/ACRE
Morra Echo Park (Los Angeles, California)
Builder/Developer: Planet Home Living
Architect/Designer: KTGY
Landscape Design: Rodriguez & Satterthwaite
Civil Engineer: DHS and Associates
Interior Designer: Madison Modern Home | Fixe Design House
This community brings a refreshing, updated feel to sunny Los Angeles' Echo Park Avenue. Alternating between matte black and bold white Hardie Artisan shiplap applied both horizontally and vertically with two different reveal sizes, each home maintains a strikingly clean look accented by warm, medium-toned wood and lively planters. The garage and a bonus room reside on the ground levels, while the main living area, complete with a spacious patio balcony, sits on the floor above. Bedrooms are located on the top level with large windows to allow residents to soak in the California sun and appreciate the gorgeous Los Angeles views. Despite their connected appearance, this community does not consist of townhomes since each unit is surprisingly structurally independent. These single-family detached homes are only attached to the adjacent unit via expansion joints. Each of these staggered units rises in elevation as you move further into the site to match the sloping nature of the topography. The challenging site, which is substandard in street frontage width, sloping and long, required approval of zero setbacks from the north property lines. This sold-out community mirrors the trendy surrounding neighborhood and makes the perfect addition to the Echo Park/Los Angeles area.
BEST SINGLE FAMILY-FOR-RENT COMMUNITY PRODUCT DESIGN
Dellrose (Hockley, Texas)
Builder/Developer: Empire Communities
Architect/Designer: KTGY
Landscape Design: KGA DeForest Design
Civil Engineer: Jones Carter
This community is inspired by the values that matter to families, ranging from a couple in search of their first home, a growing family in need of more space or empty-nesters in the market for a right-sized for-rent home in a peaceful community. The homes are striking in detail with rich architectural features and tailored amenities. Modern farmhouse chic is conveyed through the regionally popular cementitious lap siding and minimal standardized window, while clean, muted colors were chosen to lend to the contemporary aesthetic. The design of the modular floor plans, varying from one to four bedrooms, allows customizable bed and bath configurations, features and finishes to meet residents' unique lifestyle needs. The design of these cottages incorporates privatized open space – both primary bedroom and living areas open directly to side yards, perfect for indoor-outdoor living, small pets and young children. Located in Hockley, Texas, this community is one of the area's vastly growing master-planned family-oriented communities where fun and recreation are at the forefront. Loved by locals for its true, home-grown Texas feel, Hockley is a hidden gem for families seeking an escape from the bustle of Houston's urban core without sacrificing the conveniences needed for everyday living.
BEST FLEXIBLE FLOOR PLAN
Smart | Connected Home
Developer: ProBuilder
Architect/Designer: KTGY
Research Partner: New Home Trends Institute by John Burns Real Estate Consulting
Renderer: RM Design Studio
This concept home over-delivers on current trends while maintaining enough flexibility to keep residents satisfied over the decades. Inside and out, its look has a mid-century modern flair embellished with timeless materials and textures. Beyond the overall appearance, this home exceeds lifestyle expectations with its thoughtful layout and bonus accessories. Spaces are balanced to accommodate a social atmosphere while maintaining privacy when needed. The hallway workspace, upstairs loft that remains open to the bottom floor, and covered, outdoor sitting area that connects the kitchen in the main house and casita are perfect examples of separate but connected spaces. With these light boundaries, it is much easier for residents to create custom spaces that fit their needs, such as a dedicated fitness area, workspace, entertainment center or an adaptable combination of extracurricular uses. To address consumer trends surrounding shared meals, several options are offered for dining spaces. With many formal dining rooms remaining unused, excluding special occasions, this home offers an extended kitchen island for casual family meals and an outdoor kitchen and grilling area with expansive dining space for entertaining. A firepit, sitting area and numerous balconies complete the outdoor amenities to provide connections with the surrounding environment.
BEST AGE QUALIFIED SENIOR LIVING COMMUNITY – FOR SALE/RENT
Avenida Palm Desert (Palm Desert, California)
Builder: Avenida Partners
Architect/Designer: KTGY Landscape Design: Summers Murphy + Partners
Civil Engineer: MSA Consulting
Interior Designer: CDC Designs
Avenida Palm Desert is a thoughtfully designed, age-targeted active adult community inspired by mid-century modern desert architecture consisting of bright planar surfaces with rustic stone cladding and piers to ground the building and tie it into the surrounding context of the neighborhood. The community entry was created with the busy street of Portola Road in mind, positively impacting the adjacent road with its art installation in the front lobby. The 37 floating lanterns in the lobby dim as the sun sets in the desert, creating a glow that can be seen from the nearby street. The one-bedroom units — some with a den and a powder room — range from 765 to 893 square feet, while the two-bedroom floor plans are between 934 and 1,185 square feet. The resort-inspired community spaces feel like an exclusive residence club with just the right mix of services and enriching programs. In addition to three spacious interior courtyards, amenities include a bistro, great room, state-of-the-art fitness center, yoga and dance studio, wellness center spa, a theater, club room, pool/spa, barbecues and outdoor dining, a fire pit, pet park, raised gardens, and an art garden. Residents have the opportunity to envision and engage in a myriad of classes, programs, events, and social opportunities that support their passions and enhance their overall quality of life.
MASTERPLAN COMMUNITY OF THE YEAR
Sterling Grove (Surprise, Arizona)
Builder/Developer: Toll Brothers
Architects/Designers: PHX, BSB and KTGY
Planner/Civil Engineer: Greey|Pickett
Landscape Design: Greey|Pickett and Creative Environments
Interior Designer: Studio V
The homes façades within the scenic gated community of Sterling Grove reflect Craftsman, Farmhouse and Spanish design styles influenced by the origins of the site, once a working farm and are plotted as clusters as well as traditional front loaded. The homes frontages are accentuated with charming and inviting porches. Covered entry ways lead to the open single-level plans with expansive great rooms and views to covered patios and spacious back yards. The designs blur the lines between interior and exterior spaces with large sliding glass doors opening to covered patios allowing for indoor-outdoor living set amid beautifully landscaped surroundings creating an ideal space for entertaining. With large private suites that contain sizeable closets, study rooms that can flex as an office space or expand into a private accessory dwelling unit, the homes within this community have many gems to offer. Created with attainability, active adult lifestyle and flexible living options in mind, this neighborhood is highly appealing for age targeted buyers and young families alike. An array of amenities including a clubhouse and golf course add to the allure of the community.
The Award of Merit winners include:
Downtown Superior (Superior, Colorado) – Best On-the Boards Mixed-Use Project
Builder/Developer: Carmel Partners | Architect/Designer: KTGY | Planner: Town of Superior
Lineage at North Patrick Street (Alexandria, Virginia) – Best Affordable Housing Community – 60 du/acre or more
Builder/Developer: Alexandria Redevelopment Housing Authority (ARHA) | Architect/Designer: KTGY
The Lofts at 15th (Bellevue, Washington) – Best Multi-Family Housing Community – up to 30 du/acre
Builder/Developer: Toll Brothers | Architect/Designer: KTGY
Lookout at Bay37 (Alameda, California) – Best Multi-Family Housing Community – up to 30 du/acre*
*Builder/Developer/Interior Designer: Pulte Group | Architect/Designer: WHA | Planner: KTGY
The Heights Collection at The Ridge, Cutler Plan (North Salt Lake, Utah) – Best Single Family Detached Home – Over 4,500 sq. ft.
Builder: Toll Brothers | Developer: C.W. Land | Architect/Designer: KTGY
The Starling (Alameda, California) – Best Supportive / Transitional Housing
Developer: Eden Housing | Architect/Designer: KTGY
Caleda, Fiora Desert Prairie (Queen Creek, Arizona) – Best Single Family Detached Home – 2,500 to 2,999 sq. ft.
Builder/Developer: Toll Brothers | Architect/Designer: KTGY
Caleda, Triana Farmhouse (Queen Creek, Arizona) – Best Single Family Detached Home – 3,000 to 3,499 sq. ft.
Builder/Developer: Toll Brothers | Architect/Designer: KTGY
Sommers Bend (Temecula, California) – Masterplan Community of the Year*
*Builder: Woodside Homes & Wingsweep Corporation | Developer: Woodside Homes | Architects/Designers: WHA, Danelian Associates, Woodley Architectural Group & KTGY
About KTGY
Founded in 1991 and celebrating 30 years of delivering award-winning communities, KTGY is a full-service architecture, branding, interiors, and planning firm specializing in residential, retail, hospitality, and mixed-use environments. Our firm and our work are guided by a continuous focus on innovation, creativity, collaboration, and a deep responsibility we feel towards enhancing communities and neighborhoods. ​Our architects, designers, and planners combine big picture opportunities, leading-edge sustainable practices, and impeccable design standards to create memorable destinations of enduring value. Visit www.ktgy.com.
Media Contact
Company Name: KTGY
Contact Person: Michael de Silva
Email: Send Email
Phone: 1.888.888.456.5849
Address:17911 Von Karman Avenue Suite 200
City: Irvine
State: CA
Country: United States
Website: https://ktgy.com/