Memcubator – the First Launchpad and Incubator for Meme Token Projects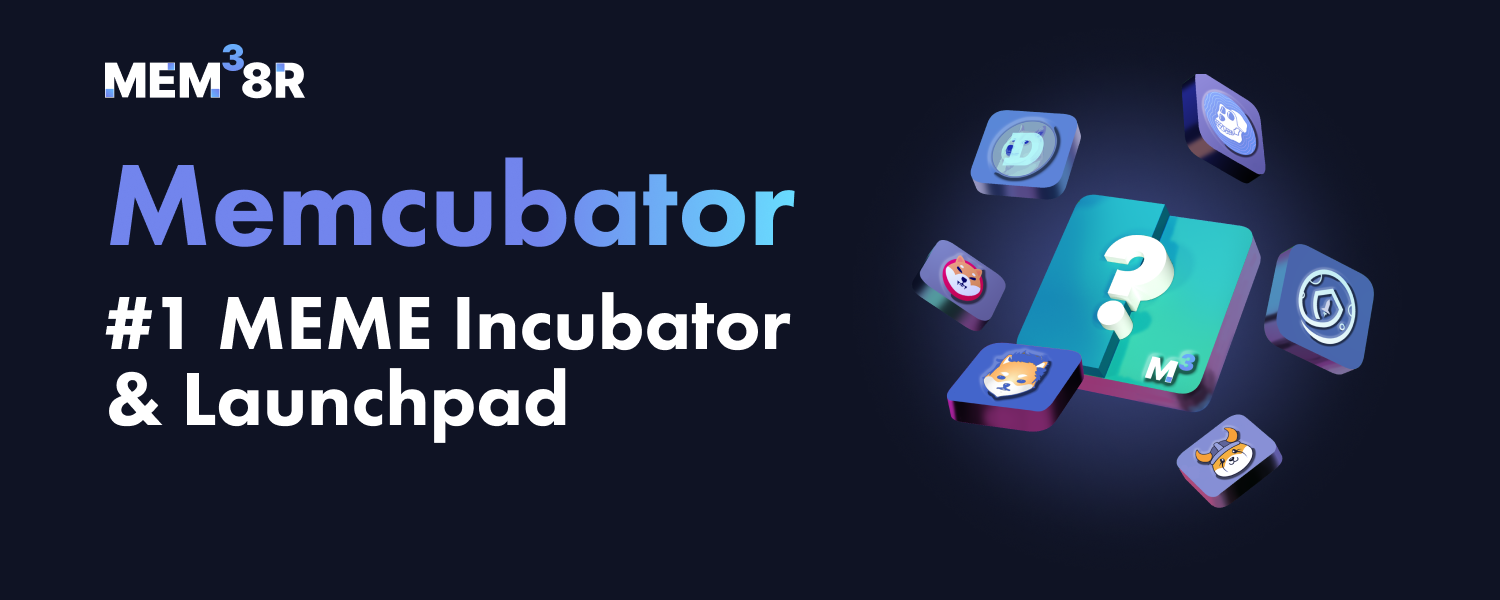 Memcubator, The #1 MEME Incubator & Launchpad aims to launch new tokens to a wide audience of crypto users. Features, such as staking and private club will be available soon too.
The $MEM38R token fair launch will take place on PinkSale in June 2022.
Meme projects are welcome to apply for launchpad and incubator now.
The first launchpad and incubator for meme tokens, Memcubator, is getting ready to launch in June 2022.
Meme crypto tokens and coins, such as DOGE, SHIB, APE, ELON and NFT-projects like Bored Ape Yacht Club, CryptoPunks, and Moonbirds have earned their place among the leading cryptocurrencies by showing excellent profitability, virality and rapid growth. It's time to launch new tokens in a less haphazard way and on a large scale.
With Memcubator there is a simple but fair system of participation in presales for crypto investors, who are always guaranteed the allocation of tokens from newly launched projects. All they need is to have some amount of $MEM38R tokens in their crypto wallet. Thus participation in the presales of meme tokens is now available to everyone.
Memcubator has several main services which are all focused on meme tokens:
Launchpad
Incubator
Token staking
Private club for meme investors
Strong teams with promising projects aiming to launch meme tokens will be able to hold their token presales on the launchpad. They will receive funding for their development and marketing, and the launch participants will discover the new meme tokens way before those are listed on crypto exchanges, so they will receive meme tokens at the best price.
A small number of carefully selected projects will be able to get into the Memcubator incubator and will get its full support in the areas, such as funding, strategy, mentorship, marketing, and, of course, rapidly acquiring the active and involved community.
Token staking is a separate and very interesting direction that will allow Memcubator users to receive additional tokens of projects that will be placed on the launchpad. This feature will be described in more details at the time of its launch.
The private club will be available to a certain category of experienced investors, holding a significant amount of $MEM38R tokens in their wallet. Our future press release will reveal the details of the club closer to the time of the club's opening.
Memcubator is created by a multinational team with extensive and successful experience in ideating, developing, launching and scaling a vast range of Top 100 – Top 500 projects for the wider crypto community. Nonetheless, the team prefers to stay anonymous to avoid any potential conflicts with existing projects that are still being built.
At present, Memcubator is preparing for a Fair Launch with KYC and its token smart contract audit on PinkSale launchpad. Those who are interested in the project and would like to participate in the $MEM38R token fairlaunch are encouraged to subscribe to notifications from the official Memcubator bot.
Likewise, the meme projects that are planning to launch soon can already apply for Memcubator Launchpad and/or Incubator.
Memcubator = #1 MEME Incubator & Launchpad
Website: Memcubator.com
Twitter: https://twitter.com/memcubator
Telegram Chat: https://t.me/memcubator
Telegram Channel: https://t.me/memcubator_ann
Reddit: https://www.reddit.com/r/memcubator
Media Contact
Company Name: Memcubator
Contact Person: Peter and Steve, Founders
Email: Send Email
Country: United Arab Emirates
Website: memcubator.com