Entrepreneur Lee Chambers wins national inclusivity award
The Preston-based founder of Essentialise Workplace Wellbeing has won in the category Men for Gender Balance at the WeAreTheCity Rising Star Awards
Lee Chambers, the Lancashire-based business psychologist and founder of Essentialise Workplace Wellbeing, has won a National Award for his work on gender inclusivity. The award, which recognises men who are male allies and support the female pipeline, is one of the only National awards that recognises men who work and advocate in this field.
The Rising Star Awards are now in their eighth year and celebrate 100 women who are the leaders and changemakers of tomorrow, across 20 different industries. The list of winners showcases remarkable women within the UK from across 20 categories representing different industries and professions. Those highlighted include Ebinehita Iyere, founder of Milk Honey Bees, working with young people who encounter the youth justice system and those who are impacted by violence in the community; Chanelle Smith, a medical student who is an ambassador for the Captain Tom Foundation and features in the children's book honouring Captain Sir Tom Moore; and law student Sheekeba Nasimi, who leads the legal clinic at the Afghanistan and Central Asian Association, a charity dedicated to improving the lives of Afghans and all refugees in London.
The awards also recognise five Rising Star Champions, who are actively supporting the progression of women in the workplace. These include Kanika Selvan, Associate Director of Data and Technology at the University of Sheffield, the youngest member of her leadership team and a committed advocate for diversity; Sam Cooper-Gray, Global Head of Market Strategy and Engagement at HSBC, where she advocates for male allyship across the firm through their global Balance network; and Marie Hemingway, founder and CTO of the award-winning not-for-profit, Speak Out Revolution.
We are once again celebrating women around the world with our Global Award for Achievement. This year's winners include Anna Raduloski, who founded WomenTech Network, a woman-led and woman-focused organisation to empower women globally through mentorship, career development and networking; Aparna Saroagi, who is spearheading inclusive workplace practices at NatWest in India; and Jennifer Kent, a senior associate in Latham's Washington, D.C. office, who is passionate about advancing diversity and inclusion in the legal profession.
We are also celebrating Men for Gender Balance, which celebrates senior men who are championing women and gender balance either inside or outside their organisation. Amongst the winners for this year are Richard Pickard, Founder of Inclusive Search, an advocate for TLA Black Women in Tech and the 30% Club, and the author of the 'Exceptional Female Role Model's interview series; Lee Chambers, a psychologist, coach and founder of Essentialise Workplace Wellbeing, a wellbeing and inclusion consultancy; and William Torrie who serves as the UK Deputy Chair for Barclay's Win group and is widely recognised for his campaign for gender equality.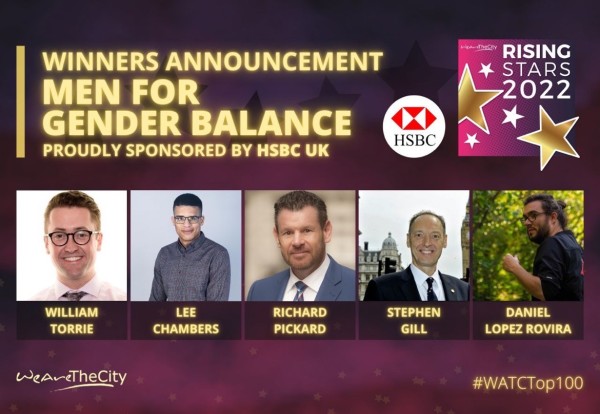 On winning in the Men for Gender Balance category, Chambers said, "This is something of an emotional moment on my journey, being recognised alongside an amazing group of fellow winners. I'm passionate and energised by the work that I do, tackling inequity and fostering allyship in other men. Rarely do I get a chance to stop and celebrate the small wins, as there is so far to go, and yet knowing I'm part of an esteemed group will give me the encouragement and support to keep making an impact. Together, we will rise."
The awards were entered by over 1,300 individuals and were judged by a panel of over 40 independent judges. Over 35,000 public votes of support were received for the 200 shortlisted nominees from across 115 countries.
The worthy winners will be able to continue their celebrations at the star-studded award ceremony, being held at the Pan Pacific London on the evening of 14th July 2022, which will feature the award presentation, influential speakers and stand out entertainment.
Media Contact
Company Name: Press Release UK
Contact Person: Media Relations
Email: Send Email
Phone: 01772 846144
City: Preston
State: Lancashire
Country: United Kingdom
Website: https://www.eventbrite.co.uk/e/rising-star-awards-ceremony-2022-tickets-338217466547