Millions of Americans celebrate Never Give Up Day this year.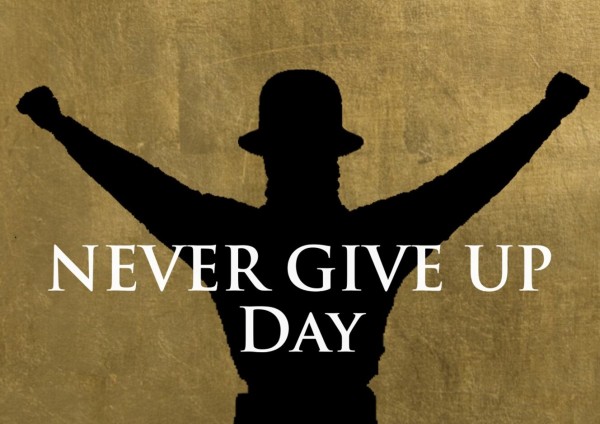 Motivation is back – bigger than ever before, and the spirit of 'Never Give Up' is getting geared up to take on the world. This year, US cities that will proclaim August 18 as Never Give Up Day include: Milwaukee (WI), Warren (MI), Charlotte (NC), Fort Worth (TX), Baltimore (MD), Irving (TX), Grand Rapids (MI), Florence (SC), Lake Havasu City (AZ), Surprise (AZ), Reno (NV), Deland (FL), Greenville (NC), Cherry Hill (NJ), Huntington (WV), Linden (NJ), Concord (NJ), Rome (GA), Loveland (CO), Springfield (OR), Corona (CA), El Mirage (AZ), Commerce City (CO), North Las Vegas (NV), Hemet (CA), Dania Beach (FL), Pinellas Park (FL), Pine Bluff (AZ), North Lauderdale (FL), Hoffman Estates (IL), Las Cruces (NM), Durham (NC), Little Elm (TX), Petersburg (VA).
This represents a huge opportunity for every association, nonprofit and charity to establish their call to action and fundraising activities. "No matter what good cause or charity you represent, every mission is directly or tangentially related to Never Give Up Day." Never Give Up Day is everybody's business as August 18 attracts intense interest and responses from people eager to celebrate Never Give Up Day, whilst the local business will enthusiastically embrace the accompanying commercial opportunities.
Never Give Up Day was first observed in 2019. However, it was not until 2021, that US city mayors approved to proclaim August 18 as Never Give Up Day, making this day a nationwide celebration day in the United States. The day gives people the desire to make things special for those who have always supported and inspired them, especially during the difficult times of life. Whether they're looking to go on a dinner with their better half or they're planning to celebrate another milestone with their staff and co-workers, Never Give Up Day will become an important celebration for many people.
Never Give Up Day will encourage awareness-raising activities, (sports) events, workshops and community programs in order to push the importance of cultivating a mindset of determination. "On this day we claim the right to never give up on everything we truly believe we can achieve, and we don't let anyone make us believe that we can't achieve it." – Mr. Never Give Up
For more information, you can reach out via:
USA: (929) 388 2146
#NeverGiveUpDaY #InternationalNeverGiveUpDay #NationalNeverGiveUpDay
Media Contact
Company Name: #NeverGiveUpDaY
Contact Person: Media Relations
Email: Send Email
Phone: (929) 388 2146
Country: United States
Website: www.nevergiveupday.com