Introducing Kanzen skincare from Harley Street with love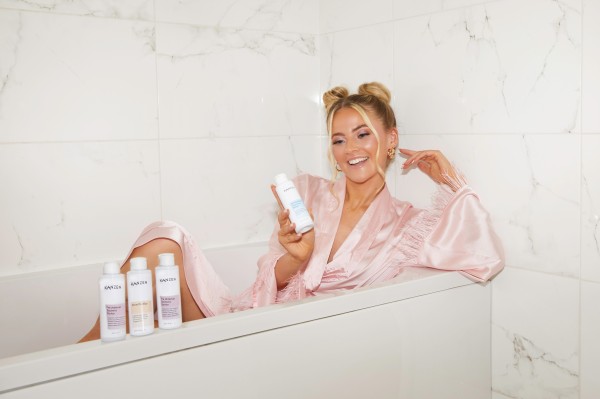 KANZEN Skincare a Harley Street skincare brand based in the United Kingdom, recently launched their new sustainable, eco-friendly, vegan, halal skincare brand that is made with 100% natural ingredients.
"KANZEN Skincare is a revolution," joint-CEO David Connor said. "There's nothing like this that has ever been brought into the market before. The years of development that went into our base product and then the amount of work to make it the best possible version for the brand has been phenomenal. Now we have a product that is patent pending and ready to take the market by storm. The future really is bright for KANZEN."
KANZEN Skincare is the brainchild of Katie London, who, together with her business partners, sought to create a skincare brand that combats inflammation and infection naturally and sustainably.
"I've been involved in the beauty industry for years and I've honestly never seen a product like KANZEN," joint-CEO Katie London said. "What this product can do is like nothing that I've ever seen.
KANZEN boasts a litany of benefits, the product replicates 1-1 natural enzymes created within the human immune system, providing a healthy and safe way to cleanse pores and skin. This also assists with supplying skin cells with oxygen, providing users with naturally beautiful skin along with washing out all dirt and 99.9% of bacteria. The products also remove skin odors, clogged pores, and is suitable for acne prone skin.
The power behind KANZEN has antimicrobial effects, which is what makes it successful in helping with acne prone skin and other skin infections. Its anti-inflammatory impact helps to repair damaged skin and helps aid with additional skin problems. These properties make it a perfect choice for those suffering from skin conditions like eczema, rosacea and psoriasis along with those with sensitive skin.
While not only great for their customers' skincare, the product is also great for the environment and consumers can know that they are supporting a very earth-conscious business. The company is 100% sustainable, eco-friendly, green, cruelty free, vegan, halal and is made in the United Kingdom.
The company's founders and directors, social media and online expert David Connor, singer songwriter Katie London, wanted to create a product that was made with 100% natural ingredients and as such they have created a product that is completely different from anything else currently available in the skincare and beauty industry.
For more information on KANZEN Skincare, visit www.kanzenskincare.com or follow them on social media @KanzenSkincare
Media Contact
Company Name: Kanzen Skincare
Contact Person: David Connor
Email: Send Email
Country: United Kingdom
Website: https://www.kanzenskincare.com/