Gifted writer and poet, Krystal O. Dethan has released an insightful indie poetry book titled "Beautiful and Free, The Journey of Krystal O. Dethan"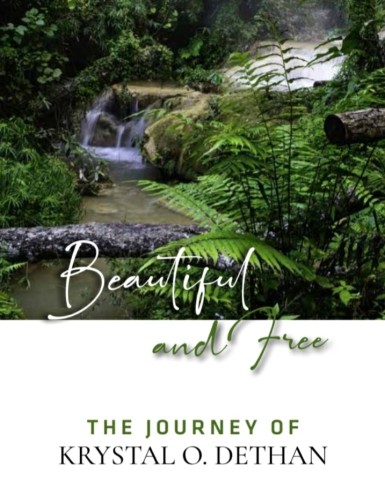 Gifted writer and poet, Krystal O. Dethan has released an insightful indie poetry book titled "Beautiful and Free, The Journey of Krystal O. Dethan" which chronicles her life as a descendant of a jamaican national hero, an expat now, and creating her own life.
It would seem as if Krystal was born with the innate proclivity for writing. The prodigiously gifted poet had always written lyrical poetry and songs right from her childhood. "I loved writing, I loved to read since I was 6 years old. So I took years to write songs and poetry but it was recently as two years ago that I decided to take my writing seriously and to create and publish my art", she recalled.
Krystal appreciates all writing niches but revealed she has a special preference for poetry, and even studied it as her major in college. While others see poetry as just another write-up, Krystal sees a song of the soul. She also enjoys literature and essays on psychology and spirituality as well.
Krystal recently revealed that her role model in poetry is American poet, memoirist, and civil rights activist, Dr Maya Angelou. Krysta admires her for her wisdom, intelligence, the positivity and progress she spreads in the black community which in turn made the greater community a better place to live in.
Krystal is not limited to writing alone. Her entrepreneurial drive has led her to launch cristalbeaute.fr, her new e-commerce beauty site. Cristal Beaute offers hair, body and nail products that enhance beauty.. On the writing front, Krystal has a book being edited now. "It's about manifesting beauty into your life and being grateful for the experiences you make in life. In the meantime I have started a new poetry collection with a whole new theme", she said.
In her new poetry, Beautiful and Free, Krystal acknowledged 5 first names:
Lolita, Ken, Keisha, Tom and Gabby. She recently revealed who these figures are and the roles they play in her life. "She is the real MVP in this Poetry Collection. Lolita, my great grandmother, living with her during her final years, she would tell me stories of my history, my ancestors and where I came from. She was never perfect but she was strong with a waif like figure and really smart. She was a self made woman and she really inspired me."
Continuing down the family tree, Krystal said: "Ken is her son, my grandfather, and Keisha is my mother. We are all descendants of the same lineage that my great grandmother would teach me about. Tom is my husband and Gabby my son. We are starting a new future with another little member joining us shortly. So I believed it was only right to release this poetry book acknowledging who made up the roots of my life and to those who make up the branches of this family tree."
Indeed, family is everything for Krystal. When she's not creating inspirational content, she spends her free time with her family and nurturing her environment. "I'm very big on family life. I garden, spend quality time with my husband and son. I enjoy cooking and trying new foods and going to new places. I enjoy watching lectures by Jordan Peterson and learning about ancient religions and Christianity", she said of her hobbies and pastime.
Krystal has a piece of advice for her readers and anyone who will come across this press release. "It is up to you to decide who you are. Every decision, every thought positive or negative defines you. How will you challenge society's demands of you and live to be who you really want to be? Answer this question first before making any decisions because only you will have to live with the consequences" she advised.
Media Contact
Company Name: Cristal Beauté
Contact Person: Krystal Dethan
Email: Send Email
Country: France
Website: https://krystaldethan.bigcartel.com