SPARK is Helping Companies To Focus On Their Employee's Mental Health
SPARK is a new-age start-up that is rethinking mental health in the business space.

With its unique approach to improving employees' mental health, SPARK is helping companies of all sizes achieve their full potential in a quick, sustainable, and uncomplicated way. The international team around Claudia Schwinghammer supports individual and collective transformation processes with the help of a new method developed by the renowned British therapist Marissa Peer. The goal is to finally put mental health on the agenda as a "must-have" and achieve sustainable results in mental health quickly.
Together with a network of top coaches and therapists from all over Europe, business economist, and psychologist Claudia Schwinghammer founded the SPARK platform in the crisis year 2022.
According to the AXA Mental Health Report, 2022 mental health issues are increasing and a lot of people do not feel happy and satisfied.
Even before the pandemic, stress, burnout, work overload, and job frustration were big issues, and now the pressure at work has increased even more. At the same time, however, and fortunately, increased awareness of mental stress is evident in society, an opportunity to focus on mental health as the basis for personal growth and productivity.
SPARK helps to work specifically on issues that prevent teams or individual employees from achieving their full potential. SPARK's method, setting, and technological requirements clearly distinguish it from well-known, broad-based "Employee Assistant Programs."
"At SPARK we believe that Mental health is a "must-have" for every organization. We want to work with companies that truly care about the well-being of their employees and are interested in quick, sustainable results. From quitting smoking, feeling good about weight, performance issues, or even self-worth, SPARK's offer is tailored to the needs of today's working world," says founder Claudia
Schwinghammer. Her team of experts currently works on this in nine languages, live in the DACH region and online worldwide.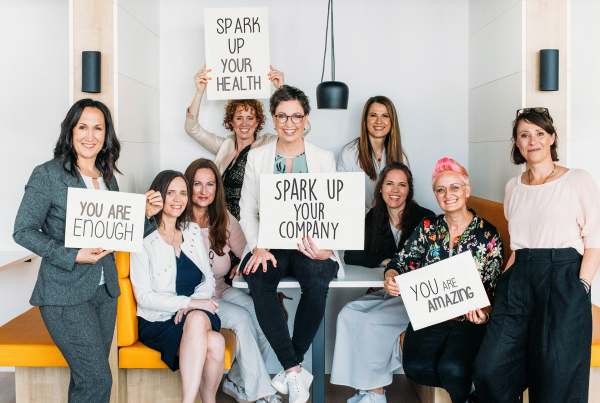 With SPARK, CEOs, HR managers, work councils, and those responsible for occupational health now have an innovative partner who understands both employees and management and initiates far-reaching changes flexibly and promptly that are worthwhile for all sides.
The SPARK Internet platform makes it possible to obtain support in the area of mental health in the shortest possible way. Automated processes on the customer and coach side save valuable time. A specially programmed back-office tool allows management to see how the company is doing mentally at the click of a mouse. The privacy of employees is protected at all times.
"It is time to end the stigmatization of mental stress and illness. SPARK assumes that every person has the potential to go through life with high performance, satisfaction, and resilience. We have to learn again how to deal with change constructively. This benefits the individual and thus also his or her immediate environment, both privately and professionally," says Schwinghammer.
More information about the company is available at http://www.spark.co.at
About the method used: https://rtt.com/whatisrtt
Media Contact
Company Name: SPARK
Contact Person: Claudia Schwinghammer
Email: Send Email
Phone: 00431 361 3737
City: Vienna
Country: Austria
Website: www.spark.co.at