The Nemesis Celebrates F1 Grand Prix In The Metaverse
For the most exclusive event of the year in the Principality of Monaco, the Formula 1 Grand Prix lands in the metaverse with the evocative virtual version of the Monte Carlo circuit. (link video teaser)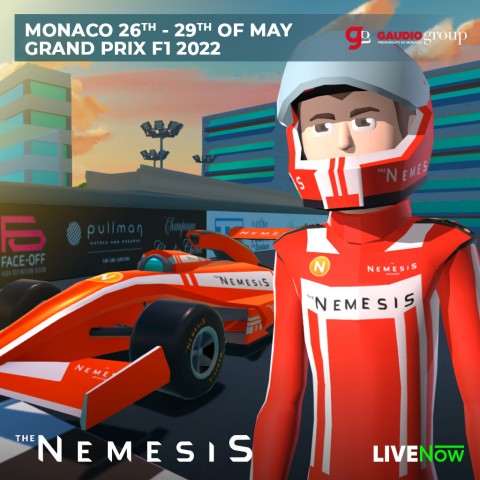 Green light for all racing and technology enthusiasts. With the company Gaudio GROUP based in MonteCarlo and thanks to the support of the art director Lele Danzi, The Nemesis launches its first metaverse dedicated to the world of racing: https://thenemesis.io/@montecarlo
The Nemesis' designers were inspired by the real Monaco circuit, with its typical track and breathtaking city context, to create the ambience that hosts virtual speed race aboard an F1 car. Three days at full throttle, to try to win the fantastic prizes offered by Pullman Timi Ama Sardegna, Inmodo Aurum and XERJOFF, some of the sponsors who participated in the project, together with Gaudio GROUP, as promoters of technological innovation and of the metaverse in the racing world.
The Monaco Grand Prix is not just races: it is a set of cultural events in the most exclusive locations in the Principality. From Belair Fine Art in Montecarlo, the well-known art gallery belonging to Gaudio GROUP, on Friday 27 May and Saturday 28 May at 6 pm UTC two parties with real-world DJ sets will be broadcast in the metaverse, curated by Feev and Dj Owl, launched on music scene during the King's Fest in Amsterdam on April 26, 2022 together with Niki Romero and Marc Benjamin.
Also in the metaverse, the Unleashed League of Challengers and Racers finals of the F1 eSports championships will also be broadcast on Sunday 29 May at 6 pm UTC. An exclusive content from LiveNOW, the entertainment platform among the first in Italy to promote metaverse technology to offer innovative experiences.
Let's meet on The Nemesis starting from Friday 27 May to challenge yourself on the track, participate in exclusive events from the Principality and enjoy cool contents in the metaverse, even from mobile, simply via the app for iOS or Android.
More information
The Nemesis is the entertainment platform that offers innovative virtual reality experiences. Numerous international brands and influencers have already chosen The Nemesis to increase the engagement of their communities with fun gameplay, prize challenges and live events set in ever new and surprising metaverses. The quality of the technology and the ease of use are the strengths of the platform, which is accessible from the PC browser or via iOS and Android apps.
Android app download: https://play.google.com/store/apps/details?id=io.thenemesis.android
iOS app download: https://apps.apple.com/it/app/the-nemesis/id1550123242
Media Contact
Company Name: The Nemesis
Contact Person: Deborah Martino
Email: Send Email
Phone: +39 3496732109
Country: Swaziland
Website: https://thenemesis.io/