Edge Computing Market To Grow With CAGR Of 38.4% By 2028, Owing To Enhanced Demand For IIoT, Remote Monitoring And Video Analytics Applications | Grand View Research, Inc.
According to a new report published by Grand View Research, the need to eliminate the privacy issues associated with transmitting large amounts of data and issues related to latency and bandwidth, which reduce the data transmission capacity of an organization, are expected to drive the market growth over the next few years.
Edge Computing Industry Overview
The global edge computing market size was valued at USD 4.68 billion in 2020 and is anticipated to reach USD 61.14 billion by 2028, exhibiting a CAGR of 38.4% over the forecast period. Edge computing introduces a great level of business complexity, as it requires an extensive range of stakeholders for IT infrastructure, connectivity, application development, traffic delivery, and service management. Edge also brings together hardware and software solutions and networking architecture that address the vast number of use cases pursued across several industry verticals. As the technology is still in the early stages of development and its implementation and operational models are yet to mature, an edge is likely to create vast growth opportunities for new entrants in the near future.
The COVID-19 pandemic has resulted in the growth of edge computing and data centers. However, with the increasing implementation, the spending on these technologies is expected to slightly decline over the next couple of months. Enterprises across different industry verticals are reducing their spending or are slashing their investments in upgrading software and servers to achieve rapid cost savings. However, there are exceptions in the healthcare and telecom sectors, where we can see increased investments in edge and IoT. The telecom sector is witnessing high growth in video conferencing software such as Zoom and Microsoft Teams and is rolling out new products to cope with the ever-increasing demand. For instance, in December 2020, SK Telecom collaborated with Amazon Web Services to launch edge cloud services based on 5G MEC. Companies are grasping the opportunities to tackle the current situation by delivering new services.
Gather more insights about the market drivers, restrains and growth of the Global Edge Computing market
The intense escalation of demand for edge computing is expected to continue post-COVID-19 pandemic for the next three to four years as the stress on developing network infrastructure will not subside in the near future. Work from home becoming the new normal and the healthcare system reaching critical mass with online consultation is expected to give rise to such network infrastructure that requires low-latency connectivity and high security. Telecom companies are expected to capitalize on this opportunity as the per-unit cost of edge facilities will be overshadowed by the cost of adding additional switching facilities or building a full-sized data center. This cost advantage will accelerate telecom companies' movement to a large deployment of data centers in the next couple of years.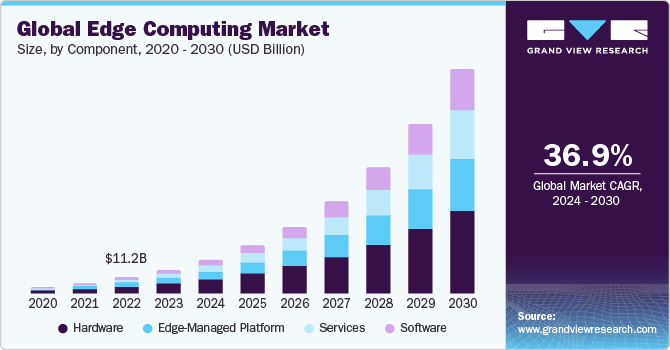 Edge computing has become a solution-specific technology with exotic architectures and equipment that are built for particular use cases. 5G and network function virtualization, streaming games, and next-generation CDNs and cloud are some of the use cases where the edge is expected to capture a significant share over the forecast period. This is the first phase in a journey towards a future where the edge becomes readily available and a viable part of the internet with user-friendly interfaces for developers to exploit.


Edge Computing Market Segmentation
Based on the Component Insights, the market is segmented into Hardware, Software, Services, and Edge-managed Platforms.
The servers segment captured a revenue share of more than 44% in 2020. Presently, servers that support edge applications are often owned by enterprises, connected to devices over a private network, and deployed on-premises.
Edge sensors/routers capture a revenue share of approximately 23%. The increasing number of data centers across various industry verticals is propelling the demand for edge routers.
Based on the Application Insights, the market is segmented into IIoT, Remote Monitoring, Content Delivery, Video Analytics, AR/VR, and Others.
The Industrial Internet of Things (IIoT) application segment captured a revenue share of over 31% in 2020. Edge computing has played an essential role in allowing manufacturers to achieve digitization of their facilities.
Industry 4.0 emphasizes operational agility using technologies that bring the convergence between physical and cyber systems. With an edge platform, smart factories have the option to send only filtered data to their cloud solutions.

Based on the Industry Vertical Insights, the market is segmented into Industrial, Energy & Utilities, Healthcare, Agriculture, Transportation & Logistics, Retail, Datacenters, Wearables, Smart Cities, Smart Homes, and Smart Buildings.
The energy and utilities segment captured a revenue share of over 17% in 2020. In the energy and utilities segment, the implementation of smart grids is expected to contribute to revenue growth as they rely on device edge infrastructure.
The healthcare segment captured a significant revenue share in 2020. The healthcare industry has characteristically been conservative when it comes to the adoption of digital technologies.
Applications of edge and IoT in healthcare and life sciences are expected to witness robust growth over the next couple of months.
Based on the Edge Computing Regional Insights, the market is segmented into North America, Europe, Asia Pacific, Latin America, & Middle East & Africa.
North America accounted for the largest revenue share of more than 44% in 2020. The convergence of edge computing with IIoT is encouraging manufacturers in the U.S. to move toward connected factories.
Asia Pacific captured a significant revenue share in 2020, attributed to the growing emphasis on improving networking technology in the region due to COVID-19.
Market Share Insights:
June 2021: Cisco announced its new portfolio of catalyst industrial routers to extend the capability of enterprise network to the edge with flexibility, scalability, and security with embedded 5G technology.
2020: EdgeMicro launched five new micro-edge data centers across the U.S. The company developed a containerized data center design that can hold up to six racks, each designed to support 8 kW of power.
Key Companies Profile:
Edge start-ups are engaged in developing micro-edge data centers, which are small-scale modular data centers that include all the storage, computing, networking, power, and cooling facilities.
Some of the prominent players operating in the global edge computing market are:
Cisco Systems, Inc.
Microsoft Corporation
Amazon Web Services (AWS), Inc.
Moxa Inc.
NVIDIA Corporation
Belden Inc.
Order a free sample PDF of the Edge Computing Market Intelligence Study, published by Grand View Research.

About Grand View Research
Grand View Research is a full-time market research and consulting company registered in San Francisco, California. The company fully offers market reports, both customized and syndicates, based on intense data analysis. It also offers consulting services to business communities and academic institutions and helps them understand the global and business scenario to a significant extent. The company operates across multitude of domains such as Chemicals, Materials, Food and Beverages, Consumer Goods, Healthcare, and Information Technology to offer consulting services.
Web: https://www.grandviewresearch.com
Media Contact
Company Name: Grand View Research, Inc.
Contact Person: Sherry James, Corporate Sales Specialist – U.S.A.
Email: Send Email
Phone: 1888202951
Address:Grand View Research, Inc. 201 Spear Street 1100 San Francisco, CA 94105, United States
City: San Francisco
State: California
Country: United States
Website: https://www.grandviewresearch.com/industry-analysis/edge-computing-market