Purple Heart Recipient, Aurita Maldonado, Describes Her Incredible Life's Journey In New Captivating Autobiography
The new book is an inspirational memoir of triumph and discipline, detailing the US Army veteran's remarkable journey through seemingly insurmountable tragedies
May 27, 2022 – US Army veteran, Aurita Maldonado, is delighted to announce the release of her autobiography titled The Zen of Dancing in the Rain: Becoming One with the Storm.
The recently published work, which also happens to be the author's first book, is an inspirational memoir of triumph and discipline, detailing the purple heart recipient's remarkable journey through seemingly insurmountable tragedies.
According to Aurita, society has become a place where combat veterans would rather commit suicide than live. Regardless of their many accomplishments, a lot of these veterans still feel miserable and powerless under the boredom of what society deems important.
Contained in the pages of the book, are the perspective shifts Aurita adopted to continue enjoying her life through several near-death experiences.
From battling PTSD to learning how to walk again due to neuropathy, and also surviving the devastating Hurricane Maria of 2017, Aurita's life has proven to be an accurate example of stumbling in style to survive the impossible.
The Zen of Dancing in the Rain: Becoming One with the Storm is currently available for purchase on Amazon and can be accessed via the following link: https://www.amazon.com/Zen-Dancing-Rain-Becoming-Storm-ebook/dp/B09YL4KZKJ
About The Author
Aurita Maldonado is a US Army veteran, purple heart recipient, and Afro Latin dance instructor. Gallantly serving in the military for nearly a decade – including two combat tours in Iraq and Afghanistan, Aurita decided to simplify her life after a 200lb IED exploded directly under her vehicle, and three rounds hit her pack. Relocating to Haines, Alaska to become a rafting guide in a bald eagle preserve, Aurita resolved to devote the rest of her time to confronting her PTSD while running through the wilderness.
However, life revealed that it had more surprises in store for her, as she was soon diagnosed with a severe case of rat lungworm in 2012, which paralyzed her from the waist down, and confined her to a wheelchair with neuropathy. Although the doctors believed she would never walk again, the relentless fighter practically willed herself back on her feet through sheer determination and unwavering resolve. Her journey to recovery was so inspirational that it was featured on Animal Planet's show: Monsters Inside Me.
In 2017 Aurita moved to the 24-mile island of Vieques, Puerto Rico to teach salsa, but Hurricane Maria hit and shifted her focus to survival. Pregnant with no electricity, water, or communication, Aurita braved the elements and had her story featured in the documentary, Broken Worlds: The Island (Vieques).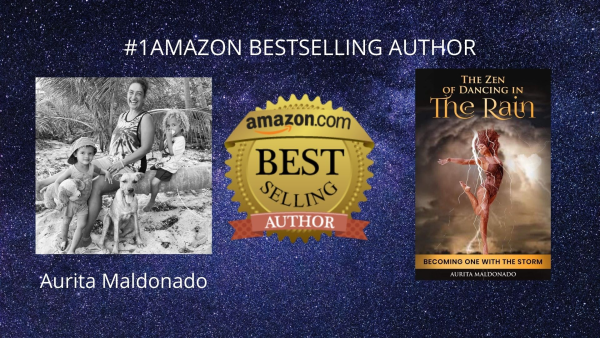 Currently, Aurita Maldonado resides in Vieques with her two children. Despite losing her father to a heart attack, Aurita continues to keep their dream of owning an organic farm and currently runs La Finca Infinidad. The Afro Latin dance instructor is the director of Tropical Storm Dance Co. and teaches salsa, bachata, Zumba, and Latin Fusion Aerobics.
Instagram: @HurricaneInspired
Facebook: facebook.com/HurricaneRita2
Media Contact
Contact Person: Aurita Maldonado
Email: Send Email
Country: United States
Website: https://www.amazon.com/Zen-Dancing-Rain-Becoming-Storm-ebook/dp/B09YL4KZKJ