Star Wars Spoof "The Rise of Showstopper" Debuts on Amazon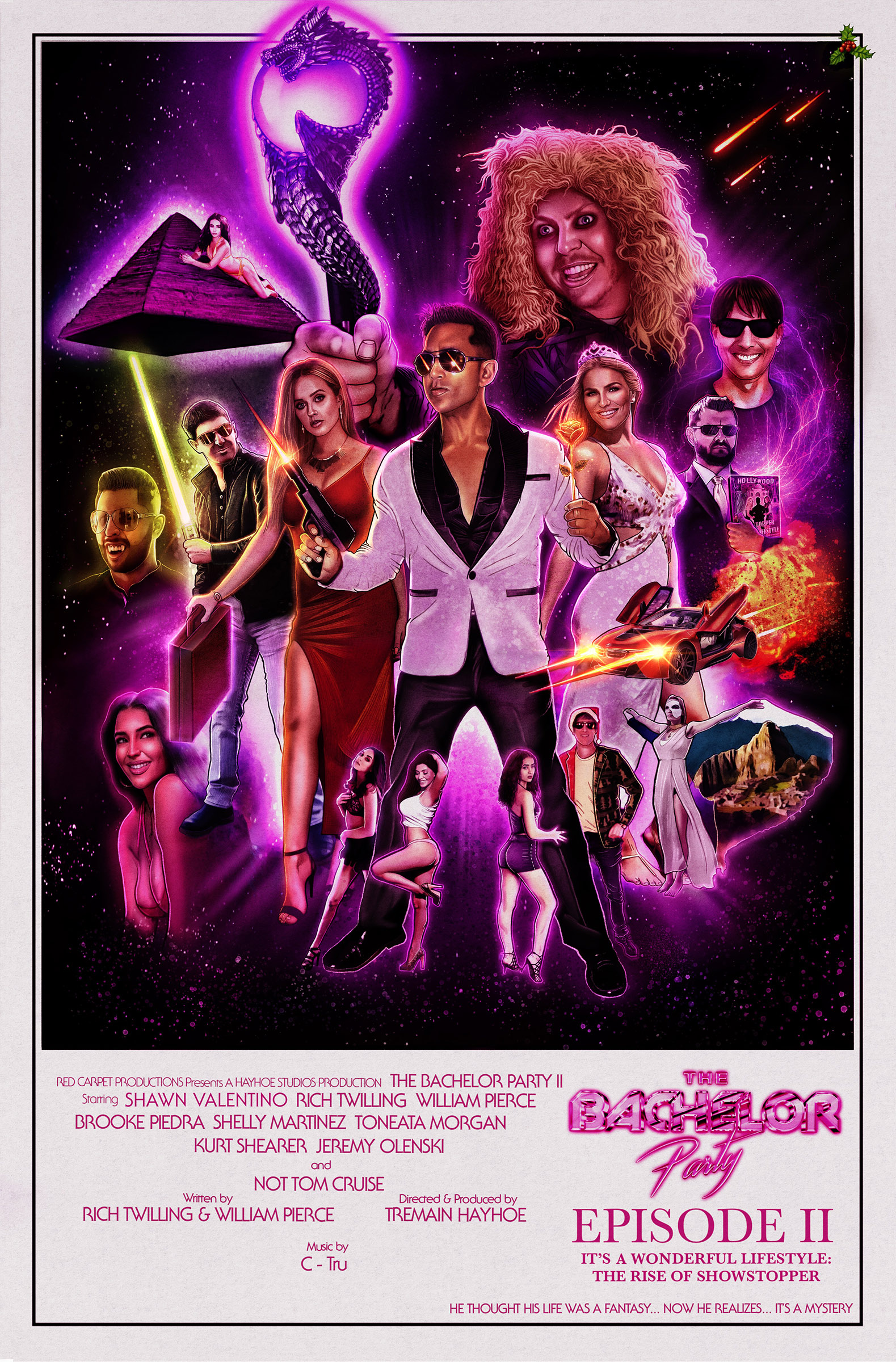 The Bachelor Party: Episode 2: It's a Wonderful Lifestyle – The Rise of Showstopper, a new movie from Red Carpet Productions and Hayhoe Studios, has launched on Amazon Prime.
The film is directed by Tremain Hayhoe and stars multimedia personality Shawn Valentino as The Most Famous Bachelor in the Galaxy. It is a parody of Star Wars, Mission: Impossible, The Bachelor and classic Christmas movies like It's a Wonderful Life.
It features an attractive cast of upcoming actresses and models including Miss USA finalist Toneata Morgan, former WWE wrestler Shelly Martinez, Brooke Piedra and Hannah Coelho. William Alford Pierce, recently seen in Once Upon a Time in Hollywood and Bombshell, plays a lead role as does popular wrestling columnist Rich Twilling.
The film is a sequel to the 2019 comedy The Bachelor Party: The Playboy's Impossible Mission. The plot revolves around a famous playboy who is betrayed by a mysterious enemy from the Dark Side of the Lifestyle, and he is forced to go on an international adventure to recover an artifact that can save the world. Global shooting locations include the Hollywood sign, the Pyramids of Egypt, the salt flats of Bolivia, Bhutan, India, Thailand and Machu Picchu in Peru. Hayhoe proclaims, "Hollywood isn't making any films that are pure escapism anymore so we want to make movies great again."
Valentino has had a long media career promoting his jet-setting bachelor lifestyle that began on The Tyra Bank Show. He has also been featured on The Dr. Phil Show, Fear Factor, Take Me Out and the Vice Media documentary, The Showstopper: The Next Hugh Hefner. He says, "We hope audiences have a great time escaping into our wacky universe seeing silly spoofs of some famous films."
The movie also features celebrity cameos from Jennifer Love Hewitt, Ted DiBiase and Most Interesting Man in the World, Jonathan Goldsmith. The world's top Tom Cruise imitator Evan Ferrante makes a surprise cameo. The songs of hip hop artist C-Tru, Snoop Dogg and Kamal Khan highlight the soundtrack.
The Bachelor Party: Episode 2: It's a Wonderful Lifestyle – The Rise of Showstopper is available on Amazon Prime in the USA and UK via the link below and will be making an international release soon:
https://www.amazon.com/dp/B08C7TQJ3V
Media Contact
Company Name: Red Carpet Productions
Contact Person: Shawn Valentino
Email: Send Email
Phone: 310-600-5755
Country: United States
Website: www.redcarpetlifestyleproductions.com