SmokeFreshly Set to become World's Most Portable Smoke Suction Device for Domestic Use
Scientify is delighted to announce the pending launch of SmokeFreshly, a smoke suction and filtering device that converts unhealthy fumes to pure healthy fragrances. It's introduction to the fray will see that humans are less exposed to toxic air.
SmokeFreshly houses a 4-layer filtration system that ensures every bit of air sucked in comes out pure. With an incredible 400CFM suction power, nothing gets past the device. Users can dare to cook without suffering discomforting exposure to unhealthy fumes. SmokeFreshly's presence in the kitchen has many excited considering that other smoke sucking devices are incredibly expensive, immovable and do not return pleasant fragrances. It's mobility means that it can be used wherever it is needed. SmokeFreshly is also recommended for use in the bedroom to ensure that those long hours of night rest are free from toxicity.
Considering that most lung and air-related conditions are caused by secondhand smoke, the team at Scientify has been hailed by many for their latest innovation. Pet owners will certainly suffer less allergic reactions from their furry companions. This also works for people that handle plants and flowers. SmokeFreshly's capacity to allow people to purify the air around their immediate environment has seen many think about a host of creative uses.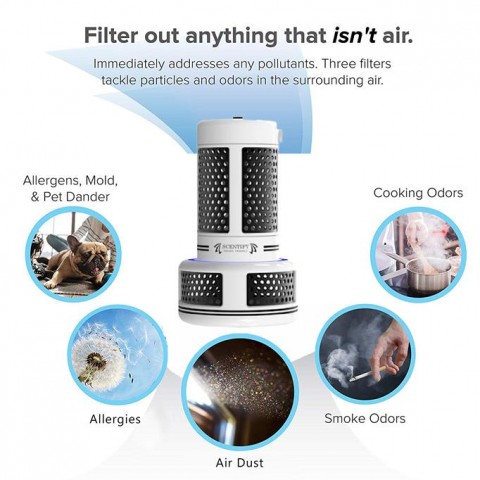 One member of the test team was visibly excited and disclosed her intentions for her SmokeFreshly, "When I finally get my SmokeFreshly, I'm going to have it working in the train, in the bus, when I'm driving, cooking, and working. As a matter of fact, I'll take it everywhere since it is so portable".
Albeit only a smoke filtering device, SmokeFreshly's fancy design ensures that it adds some aesthetic value to its immediate environment. It is rechargeable, and when unplugged runs on a 4000mA lithium battery. To suit the current minimalist preference of the age we live in, the device features just one button. This ensures that it is user friendly and easy to use.
After months in the production labs and a series of rigorous testing processes, the SmokeFreshly prototype was achieved. The team at Scientify intends to give the public a chance to be immersed in the growth of their new innovation by launching on Kickstarter and Indiegogo. Supporters will have access to hefty one-time discounts as reward for being early birds.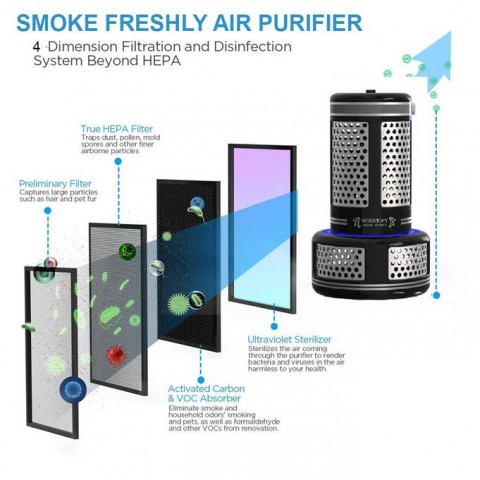 For more information about Scientify's SmokeFreshly, use the media contact outlets below.
Media Contact
Company Name: Smoke Freshly Inc
Contact Person: Francis Odogun
Email: Send Email
Country: United States
Website: http://smokefreshly.com/