Thought Provoking and Hilariously Poignant – Stream 'DOLLHOUSE' Today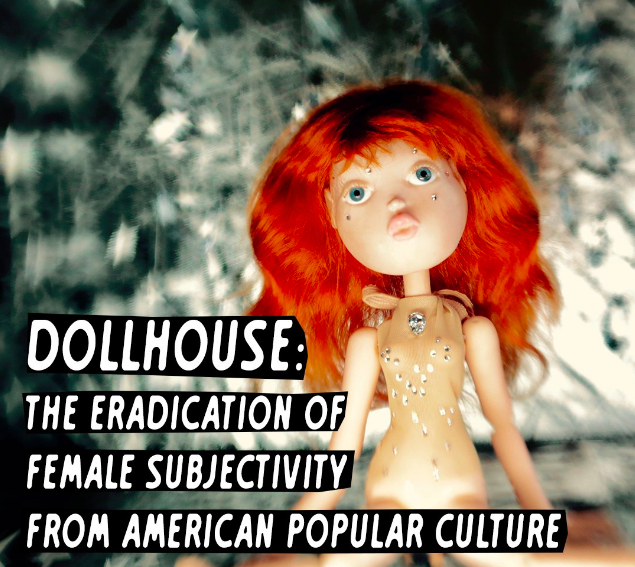 DOLLHOUSE: The Eradication of Female Subjectivity from American Popular Culture // ROCK SALT RELEASING
A brilliant and brave satire of misogyny told through our society's perspective of women as objects.
Los Angeles, CA – Aug 24, 2020 – Stream 'DOLLHOUSE', the multi-award winning satirical look at the machinery of celebrity culture on Amazon today: https://amzn.to/3iw2MJU.
From writer/director/producer, Nicole Brending (Selfied, Operated by Invisible Hands), DOLLHOUSE: The Eradication of Female Subjectivity from American Popular Culture is a savage takedown of the Whitney/Britney celebrity-industrial complex.
"A provocative, thought-provoking film with a punk rock attitude that pulls no punches and delivers satirical brilliance using dolls, a lot of imagination, and creative filmmaking," wrote Pop Axiom.
Set in the bubble gum pop world of Britney Spears and Lindsay Lohan and told by entertainment reporters, DOLLHOUSE chronicles the triumph and train wrecks of fictional child pop star, Junie Spoons. Her fall from grace is a cautionary tale about the consequences of denying women their own voice and a reflexive expose forcing us to acknowledge the less than savory pop industrial complex we all can't help but buy into.
Stylized by puppets to reveal the hypocrisies of an opportunistic society that preys on the talents and contributions of women, DOLLHOUSE is a scathing look at what it means to be female in a modern world; assaulted by men and women and harassed by the media, representing a new era obsessed with identity and entitlement.
"DOLLHOUSE is funny but also a punch to the gut. It's a story that doesn't hold back on what it wants to say while still being hilariously poignant," continued Pop Axiom, adding, "modern audiences are not ready for DOLLHOUSE, but they need to watch it."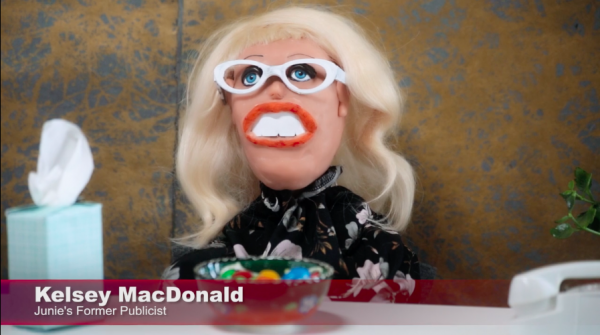 ROCK SALT RELEASING has released DOLLHOUSE: The Eradication of Female Subjectivity from American Pop Culture onto various digital streaming platforms (Amazon, InDemand, FlixFling, FANDANGO, Vudu and Vimeo on Demand).
Enter the dollhouse here: https://www.youtube.com/watch?v=7xGzKZCOw1w.
Alongside Brending as the voice of Junie Spoons, DOLLHOUSE: The Eradication of Female Subjectivity from American Pop Culture features voiceovers from Aneikit Bonnel (Grosse Pointe Blank, The Bounty Hunter, Hitch), Erik Hoover (The Stranger, A Method, God's Cookery), Peter Ooley (The Life of Riley, Group Home), Adam Sly, and Sydney Bonar.
For more information, please visit: http://rocksaltreleasing.com/doll-house.html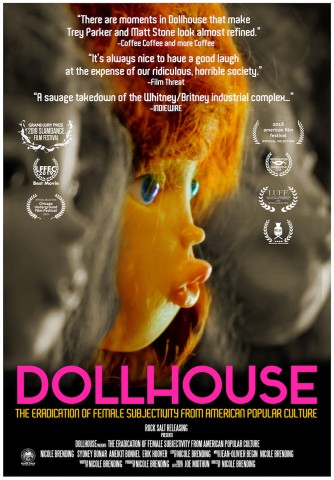 Dollhouse: The Eradication of Female Subjectivity from American Popular Culture (2018, 77 min.) Written and directed by: Nicole Brending. Producer: Nicole Brending. Original music: Jean-Olivier Bégin. Cinematographer: Nicole Brending. Editor: Nicole Brending. USA, English. Playing With Dolls LLC,Rock Salt Releasing.
Production Company: Playing With Dolls LLC.
ABOUT ROCK SALT RELEASING: Daisy Hamilton curates artistic, award winning auteur films for worldwide theatrical release: www.rocksaltreleasing.com
About TriCoast Worldwide:
TriCoast Worldwide is a premium international sales agent, representing the best of US and international films at all the major film markets. Sister company to TriCoast Entertainment and TriCoast Studios, the company is located at the Studio facility in Culver City, Los Angeles.
Founded by: Strathford Hamilton and Marcy Levitas Hamilton.
Media Contact
Company Name: TriCoast Entertainment
Contact Person: Jenna Wilen
Email: Send Email
Phone: 3104587707
Address:11124 Washington Blvd.
City: Culver City
State: California
Country: United States
Website: http://www.tricoastworldwide.com