Understanding the connection between East and West through humanitarian perspective on the global scale with founders of Coronastreet and Safe Nation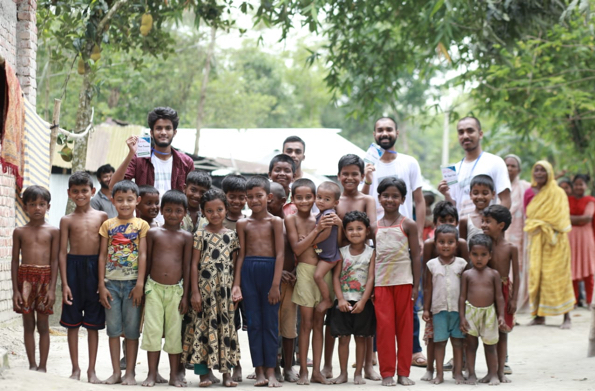 We have recently been fortunate to meet with some unique people who are developing an ambitious project aimed at supporting global humanity. I've been told about this group of people and understand that they know something about the global changes of all humankind. Let me introduce Ivan Lakshinsky who is the Coronastreet/SafeNation program manager, and founder of the EastWestConnect LLC – an American company operating in the field of high technology; and David Phurtskhvanidze who is Head of EuropeStudiesLabor (ESL) Georgia, and the main co-executor of the program.
Ivan, in the preamble to the interview, I have used the words "unique" and "ambitious". Do you think it refers to you and your global project?
Indeed, however, I would rather name what we are doing not as a project, but as an open global international humanitarian program that includes interconnected projects. Now at the moment there are two of them, but for sure, soon, we are confident that new ones will appear.
All of us, the founders, participants and partners of this international program, undoubtedly follow the latest events taking place in our countries, as well as around the world. There are currently many problems emerging, and one does not need to be a conspiracy theorist to understand what upcoming grand events of a civilisational scale are at stake. As Leonardo Da Vinci wrote: "People are divided into three categories. Those who see, those who see when they are shown, those who do not see." Through our actions and our portal www.coronastreet.space, we try to work separately with each of these three categories as indicated by this great genius of our past.
During the global changes, companies and associations responsible for the security and protection of human rights have faded, as have the global media conglomerate with their complete absence of humanistic information filters. We are convinced that there are not enough organizations on a global scale able to legitimately help people properly without unnecessary bureaucratic interventions. We have tried hard to become such an organization, and open to cooperation. During the he period covering the fight against coronavirus the need to help people at a global level, without any borders, nationalities, religious and party preferences, has been clearly shown and highlighted. We do not mind, and in fact welcome, that our mission happens under the auspice of the United Nations; but at the same time, independent from initiatives such as Safe Nation, to be able to instantly solve problems and regulate situations in as many regions of the world as possible.
For example, according to various latest data from scientists, we would would support the possibility that the temperature on our planet will rise extremely. Due to the extensive solar activity on Earth, shortly it will not be possible to live near the equator, and new deserts will appear. As a result of the temperature rise, there is a strong possibility of a flood. As a result, in connection with these global events, there will be new powerful resettlement to the north. You don't have to be a visionary to know that this will trigger a significant threat of organized riots in certain regions. It will require action by highly qualified and capable individuals/corporations to prevent victims and suppress the masses.
We live on a limited planet. In outer space, respectively, we share the air that we breathe, and although it can cleanse itself, wind and air penetrate infinitely into all countries and connect all people, just like viruses.
The root reason for me starting this program was the fact that, as a young man who lived, studied, and worked in different countries around the world, I became convinced that people and authorities of almost all countries were too focused. Their position and image amongst other countries, in favour of economic views and beliefs, became very strong. Due to this fact, all working class, and most of the world's population, are becoming dependent on survival, not their development. When a person is preoccupied with their own survival, and the survival of their family, they are not able to see anything else around them. People need help; then they will have the opportunity to deal with other issues in their environment, for example, ecology and infrastructure. We live in a civilized society. I am ashamed of what I see in many countries; there are still no health care systems, corruption is rampant, there are no corresponding bodies for human rights protection, or normal social living conditions. Our mission is not limited to humanitarian assistance. We will grow and expand into other areas related to improving living conditions and human security.
David as your organization is one of the main participants in this project, I understand you offer information support for the Coronastreet project, and are also planning and co-financing charity events?
Yes, we are working to ensure global and regional security, as well as monitoring and controlling the use of funds received for charity events in the Safe Nation project. As I've already mentioned, we are developing and implementing international educational programs. As for the mechanism of our activity, or how we can know about the global changes, well, importantly, we receive the most diverse information from around the world in a continuous mode and this is the basis of everything. However, the main segment of our multidisciplinary structure is the intellectual systematizer, a group of professional academic analysts working in an individual irregular mode. They filter out information, prioritize, and then join everything together, resulting in a deep and multidimensional picture of global-scale issues. According to our scheme, the structure of the current pandemic situation does not entirely and in all respects, coincide with global ideas. Partly this is due to the uncoordinated actions of interdepartmental and state structures. A particularly strong component of the impact on the formation of the picture, utillising the tool, is the Media, which is able to seriously alter the actual state of anything.
In short, we conduct research that allows us to be confident in the correctness of our analysis, the results of which we periodically post on our websites and various public venues. We have a network of sources of reliable, confidential data within different countries; this information is constantly analyzed and repeatedly checked before its publication.
Our global mission includes building a concept of planetary security, which will be based on the unifying idea of ​​self-preservation in each country of the world while maintaining their sovereignty.
So David, what exactly do you see as the role of Georgia in your global mission?
Well, due to the development of events around the coronavirus not only domestically, but also on a global scale, Georgia remained a kind of exclusive whereby rational judgments and scientific theories can not explain everything. Here is a combination of common sense, an intuitively-intellectual component, and self-preservation instinct, which together precisely determines a high degree of security, in the broadest sense of the word – state, national, cultural, environmental.
I am glad that it was on the land of Georgia that my colleagues and I started the development of the "Safe Caucasus" Concept several years ago. Such a project has become the basis for a more general concept, that, together with the initiators CoronastreetSafe Nation, is actively transforming into a planetary mission, invariant from nationalities, states, governments and religions. Although we started building the principles of such a concept in Georgia, using the example of similar developing systems of active interstate neutrality of Georgia, the USA and Russia; now we are trying to apply and adapt the same principles to the supranational conditions of the new world order. Moreover, through the CoronastreetSafe Nation project, we want to become pioneers of systematic preparation for the concept of planetary security and the new world order, with the participation of all interested responsible people and organizations. We invite everyone to dialogue and become the moderators of this process. We understand the need of this project now by our civilization, providing the world all our capabilities under the international humanitarian program CoronastreetSafeNation.
I appreciate what you have to say here David, however, you are referring not to the US state of Georgia, but to the country Georgia, a place relatively unknown to the Western world? So, how did it happen that this little country of Georgia remained ahead of the healthiest nation in the world, with the smallest number of people infected from the coronavirus?
Undoubtedly, the professional component has worked for us. Georgia has a rich tradition laid down by the late and outstanding scientist, founder of the Georgian school of infectious diseases, academician, Vakhtang Bochorishvili. The second key component is the fantastic discipline of the population, which seems to be entirely unusual for Georgians. However, on this occasion everything has been precisely the opposite. Firstly, a leading role was taken by way of prompt and competent behaviour of Georgian authorities, who chose a tough strategy. However, next they adopted the tactics of visual propaganda; hourly they transmitted information on the dynamics of distribution and the consequences caused by the virus. The numbers are still pleasing. Regardless, the Georgians were the first to criticize the protracted quarantine, and urge the authorities to soften conditions. Clearly, at this stage, we want to implement the Coronafreestreet project. "We will free every house, every street from the post-effect of the virus; we will distribute humanitarian packages with food and emergency aid to each poor and most affected house." And this is not only in Tbilisi and Georgia, but also in other countries of the world (Bangladesh, Libya, Nigeria). We have already appealed to the Georgian authorities and received preliminary assurances of assistance. Hope so!
Ivan, as far as I understand, you are one of the founders of the American company East West Connect. Tell us a little bit more about your company, what it does and how the EWC is connected to the humanitarian mission?
East West Connect is a company that uses the latest high-tech achievements for its business projects. The main areas of our business are telecommunications, integrated with Internet projects, internet advertising, e-books and mass media, along with applied projects in the field of digital financial technologies.
For Western countries, these activities, as I mentioned earlier, are implemented by hundreds of thousands of companies. But the Western world has already shown not only its strengths but also weaknesses. Therefore, it seemed to us much more interesting to start a business with companies and organizations in the Asian region, whereour partner David already had extensive experience. Asia produces essential goods to the global economy; such as food and clothing. At the same time, in some Asian countries, there is a simply terrifying increase in hunger and poverty. Therefore, as compassionate people, after we started working in Asia, were driven by a purely human need to support the poor and hungry people who were especially susceptible to coronavirus, and who had minimal amounts of food and medicines to prevent the disease. Despite the coordination and activities of other organizations with similar goals, and who adopted our methods, we also want to ensure that production in Asia rises to a new level, that people have a good education, technology and a higher standard of living.
EWC is located in the United States of America; the most liberal country in the world for the discovery of new ideas and new technologies. Our primary mission for the company is to create projects that help people to adapt to the new world of technological progress. We want to convince people to get out from the role of the victim, stop waiting for someone's help, to start helping both themselves and their society. In our opinion we are experiencing a revolution in the progress of technology, the financial industry and healthcare. With the appearance and development of Block сhain technology, it became possible to develop and decentralize the bravest projects. For example, in addition to the already traditional financial blockchain projects, we have considered it timely to attract several scientific and technical partners to study the phenomenal abilities of humans by studying genetics. A person, knowing his genetics, can be healthy and happy. We have discovered the chainrelationship between food elements and a person's standard of living, and will soon be ready to show the whole world how this works. We work with professors at leading universities in Europe, USA and Asia. We exchange technologies and prepare the most daring projects. Therefore, the EWC in the mission of Coronastreet and Safe Nation, is fully responsible for the technological side.
Judging by the size of your mission, you will need a vast supply of support and decent funding. Who helps you, and how do you attract financing for all your projects?
IAt the pilot stage of the Coronastreet and Safe Nation projects, we, together with the management of Europe Studies Labor (ESL) Georgia, financed ourselves. We managed to assemble an excellent team of professionals who supported Coronastreet/Safe Nation and made a significant contribution to the development of projects. We have also started to raise funds from donations from visitors to the Coronastreet.space website. These funds are invested in the humanitarian assistance in Bangladesh. We are confident that in the near future we will attract many organizations and individuals interested in helping both their own nation and the world as a whole – now during the pandemic and after the victory over the virus.
I want to emphasize once again that the help from us will not only be in the nature of charity events, but importantly based on the cutting edge technologies that EWC deals with, plus together with interested communities, organizations, and companies, whereby we will form a set of new civilizational approaches. We will introduce new practical applications in the interests of human development, regions and humanity as a whole. This is not utopia. If you visit our portal and continue to get acquainted with the progress of our projects, then I am sure that you will believe that everything is in our hands.
David, do you have anything to add in regards to what Ivan is saying?
I can only add that our non-governmental organization guarantees an honest and fair distribution of attracted financial resources, transparency and control. We have already held negotiations with many companies that are ready to start financing both the program as a whole, or through its individual components determined either by geography, or by type of activity.
How do you see the future of your work and mission?
We hope that being united with the whole world and all countries, we will help people become healthy and independent, who are free to make bold decisions and be responsible for their society. We believe that every person is unique and able to chose their life activities. Not merely work from early morning till midnight but to create a new alternative world.
We also want to cooperate with large companies such as Apple, Google, Facebook, Amazon, Simens, etc., and develop joint projects for the benefit of the alternative world, as well as with world leaders and organisations like the U.N., responsible for protecting human life.
Media Contact
Company Name: East West Connect LLC
City: San Franccisco
State: California
Country: United States
Website: https://coronastreet.space