Top business angels show how angel investing can save the startup world
A group of leading angel investors in the world get together to offer an eye opening virtual summit on how to invest in early stage technology, with the intention of helping early stage startups get increased funding after a big COVID-19 investment dip
The world has seen how early stage investment has fallen dramatically in 2020. However, a group of top angels want to turn this situation around. Angel Investor School, the pre-eminent educational resource for new and aspiring angel investorsis leading the initiative. Giving birth to new angels means that more great ideas from great founders will be funded, pushing innovation, employment and customer experience.
The virtual summit will be held online from 1st to 5th of October and will feature excellent speakers, such as Fabrice Grinda, Carlos Blanco, Brad Feld and David Cohen.
Dan Scheinman, 1st investor in Zoom and SuperAngel stated: "I believe in the power of angel investing. And I think that angel investing is something which at its best can help grow economies, transform businesses help create new leaders and new startups. So I'm a big believer in angel investing."
Dan's session focuses on his achievements as angel investor in companies such as Zoom and digs deep into some of the lesser known secrets of how to pick amazing founders and what happens inside a Board of Directors.
Moreover, Ullas Naik, founder of Streamlined Ventures, stated: "I think the angel ecosystem has grown very dramatically in the last 10, 15 years. […] I think the Angel ecosystem is wonderful. It creates a nourishes and ecosystem of creativity, which is really important, and I'm glad it exists."
The online summit will be divided as follows:
October 1st: Angel Fundamentals – learn what it takes to be an angel from the experiences of Fabrice Grinda, Gokul Rajaram, Martin Varsavsky, Susan Preston, Pejman Nozak, and Joo Seng Wong.
October 2nd: Angel Networking & Adding Value – source the best deal flow with secrets from Brad Feld, Bill Morrow, Dan Scheinman, Eneko Knorr, Ullas Naik, Anthony Thomson and Alinka Rutkowska
October 3rd: Evaluating Startups led by David Cohen, Alexander Jarvis, Dan Martell, John Colley, Paloma Cabello, and the Rubini brothers
October 4th: Portfolio Management with Jason Seats, Anthony Rose, Jonathan Abrams, Alejandro Cremades, Tom Britton and Francisco Coronel
October 5th: World and Niche Markets with high calibre speakers such as Henri Arslanian, Carlos Blanco, Andy Freire, Michel Abadi, John Michaelis, and Agustín Rubini.
Angel Investor School has produced content for new angels to successfully start investing in startups, learning from the experience of the best known and most successful angel investors.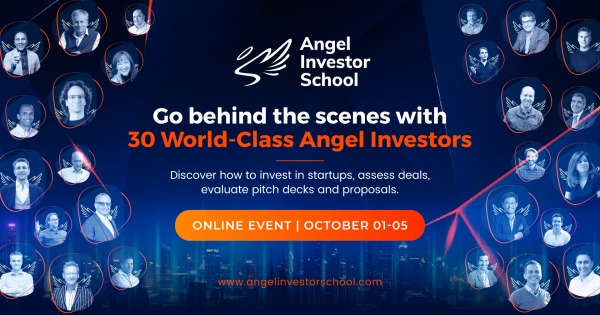 Join Angel Investor School for free at www.angelinvestorschool.com and become part of the new generation of angel investors.
About Angel Investor School
With the aim of preparing the next generation of angel investors, Angel Investor School has gathered the best minds in the business to deliver world-class content. Angel Investor School will be held from October 1st to October 5th 2020. This is a free event with great opportunities to learn from the best. All the proceeds from the sale of All-Access Passes will be used to cover Angel Investor School's costs, with any remaining profits to be donated to fighting COVID19 in Latin America.
The event will be fully online: www.angelinvestorschool.com
Media Contact
Company Name: Angel Investor School
Contact Person: Agustin Rubini and Esteban Rubini
Email: Send Email
Phone: 44 791 888 7109
Country: United States
Website: www.angelinvestorschool.com