Mango Animate Rolls out the Mango Animation Maker for Free Download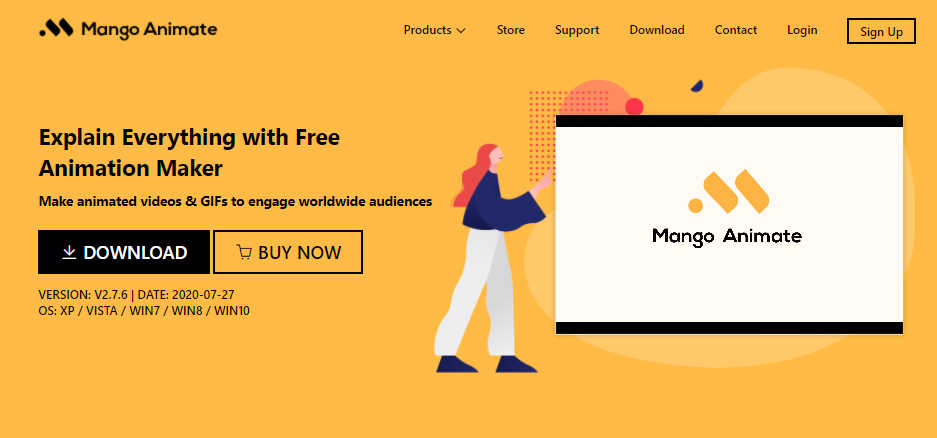 Mango Animation Maker – the perfect animation video maker for creating animated explainer videos, whiteboard training&promo videos, character animation videos.
Mango Animation Maker is a free animation video maker that visualizes storytelling and offers both the tech-savvy and the amateur alike a way to bring life to any subject or character they choose.
Mango Animate is a one-stop animation video making platform with a vision to develop four versatile animation makers that specialize in making different types of animated videos for various use. Mango Animation Maker is the first to be released. Packed with loads of powerful features, Mango Animation Maker is set out to be the top animated video software.
Mango Animation Maker is remarkably beginner-friendly with an easy-to-navigate interface and hundreds of pre-designed templates and assets. The Animation Maker is as suitable for users with no expertise as it is for those with technical skills. An extensive library of templates to start with and various media to complement when creating animated videos. Users are empowered to make whatever animation videos they want to present to their audience. Start with a blank canvas or choose from hundreds of available templates, then personalize the animated video by choosing from a wide range of images, shapes, effects, symbols and charts.
Mango Animation Maker also offers various animation effects, scene transitions, and roles. 40 types of character roles make bringing messages across and engaging the audience a breeze. There are different types of animation effects as well as scene transition effects that can be used to enhance the animated video.
Voice recording and subtitles enable users to explain their content using their own voices, and add customized subtitles to make their animated videos easier to understand. Amazing camera effects captivate the audience with rotating, panning, and zooming effects that will hold their attention and eliminate the possibility of boredom. Sharing videos and GIFs is easy with the free cloud storage, online and offline distribution, as well as social media sharing.
"We've worked long and hard to make Mango Animation Maker available for use by everyone," says Ivan Leung, Chief Technology Officer of Mango Animate. "We're excited to be finally able to release it for free download and use."
To download and use Mango Animation Maker for free, Please visit Mango Animate.
About Mango Animate
Mango Animate is an innovative animated video maker provider that offers several solutions for video creation depending on the intended purpose. Mango Animation Maker is one of the options and can be used for a wide spectrum of applications, from explaining concepts to students in a more engaging way to marketing products and services for any business.
Media Contact
Company Name: Mango Animate Software Co., Ltd.
Contact Person: Paul
Email: Send Email
Phone: +86 020-61972665
Address:Room 1003, 10/F, Tower 1, Lippo Centre, 89 Queensway, Admiralty
Country: HongKong
Website: https://mangoanimate.com/